All you need to know about Dumaguete and surroundings.
About Dumaguete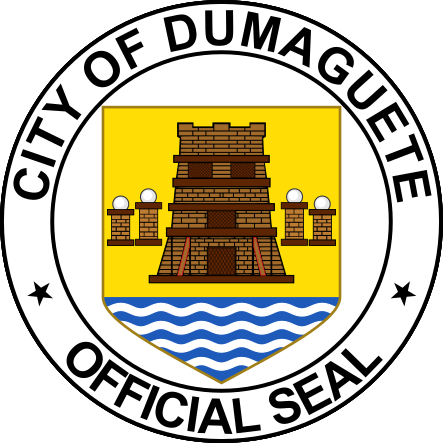 Duamguete is a small university town located in the South of Negros Oriental. The city is best known for Silliman University, the first Protestant and American university in the country and in Asia.
Dumaguete is known for his famous baywalk with many reataurants and cafes facing the ocean. The baywalk has recently even been expanded, both in North and South directions. You can find all kind of food choices: Western food, Asian food, fast food, street food etc.
Famous on the baywalk are the lanterns build by the Spanish before.
Dumaguete is a city without taxis. Anyway public transportation (jeepneys) as well as tricycles are a cheap way to travel around.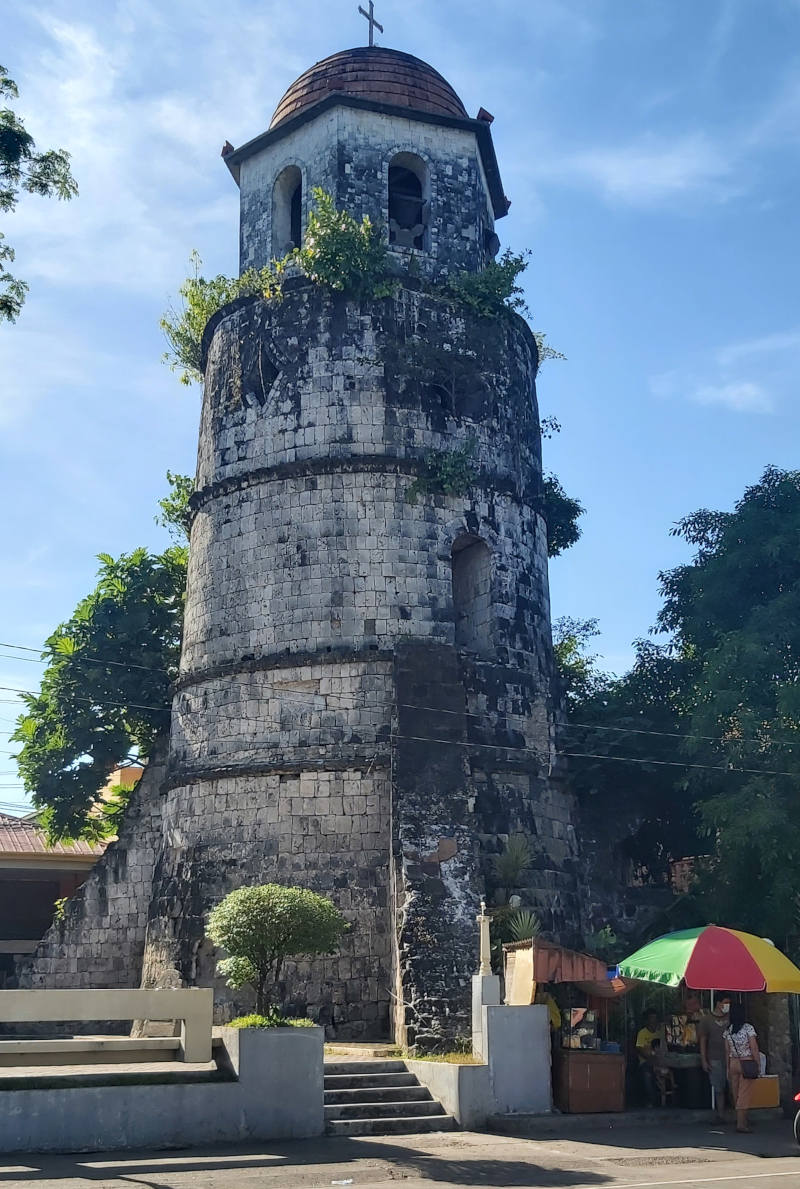 About Dauin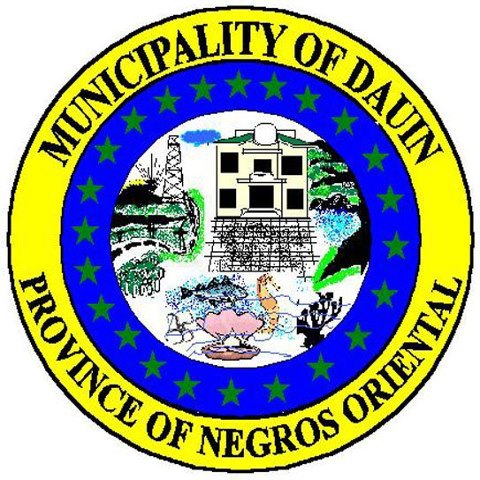 Dauin is a small tourist / diving town around 20 kilometers south of Dumaguete. Dauin is characterised by its dark or even black sand beaches.
Dauin offers accomodation in all price classes, from fancy coastal or mountain resorts to backpackers lodges. All kinds of restaurants (both local and western food) are available at various locations.
Dauin is well known for its macro / muck diving. The nearby Apo island offers astonishing (deep - drift) dives full of pristine corals and bigger fishes. Apo island trips are regulary organised by our dive shop Dumaguete Divers.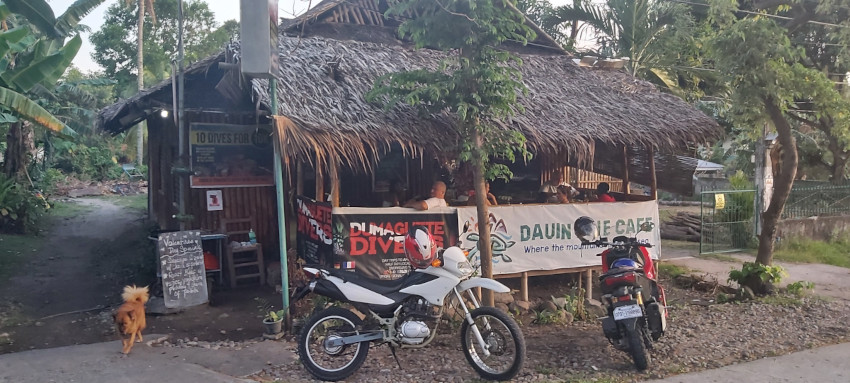 Dauin Dive Cafe - Dumaguete Divers
How to get here?
By airplane
Dumaguete has a domestic airport North of downtown.
From Manila: with PAL Express or Cebu Pacific to Dumaguete in 80 minutes.
From Cebu City: with Cebu Pacific to Dumaguete in 35 minutes.
You can also take flights from Cagayan De Oro and from June 2018 Clark International.
By boat
Duamguete has a port and servers as a local hub with boat schedules to Cebu Island, Siquijor Island, Bohol and even Manila.
From South of Cebu Island there are regular daily trips (roro and passengers) between Bato (Cebu side) and Tampi (Negros OR) and Santander/ Liloan (Cebu side) and Sibulan. From Sibulan you can take jeepney which will bring you straight downtown.
By bus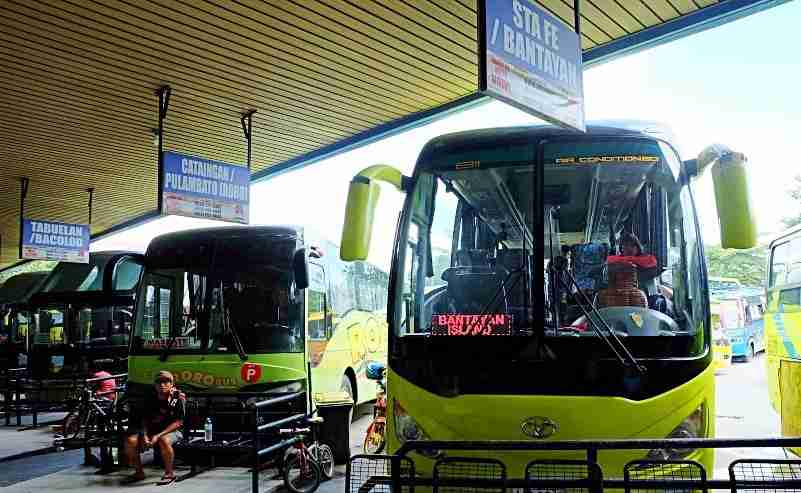 There is a daily Ceres bus schedule from Cebu City to Dumaguete City and vice versa. When you come from other towns south in Cebu Island, take local bus and tell to drop you off at Bato or Liloan boat terminal.
Buses operate all over Negros and Cebu Island, with regular departures from places such as Cebu's Southern bus terminal, Bacolod & Sipalay direct to Dumaguete and Dauin.
Other options
It is possible to bring your motorbike / van on the ferry.
Where to stay?
Duamguete has lots of hotels in all price classes.
If you like it more quiet, you can also find accomodation in all classes in Dauin. One of our recommendations is Mahogany Upland Resort, a nice operation in the Dauin highlands with a great big swimming pool, restaurant offering accomodations in various types and price classes. Please contact us for more info and package deals.
Scuba diving in Dauin
Dauin has always been a hotspot for scuba divers! Only recently it was discovered by backpackers, mostly looking for cheap accommodation and fun.
Both Panagsama Beach as White beach have numerous dive shops. In White Beach, you find most of them attached to a resort, while in Panagsama you have as well dive shops working independently or together with a resort. Most of dive shops issue PADI licenses, but it is also possible to find SSI, CMAS or SDI.
Dive sites
Dauin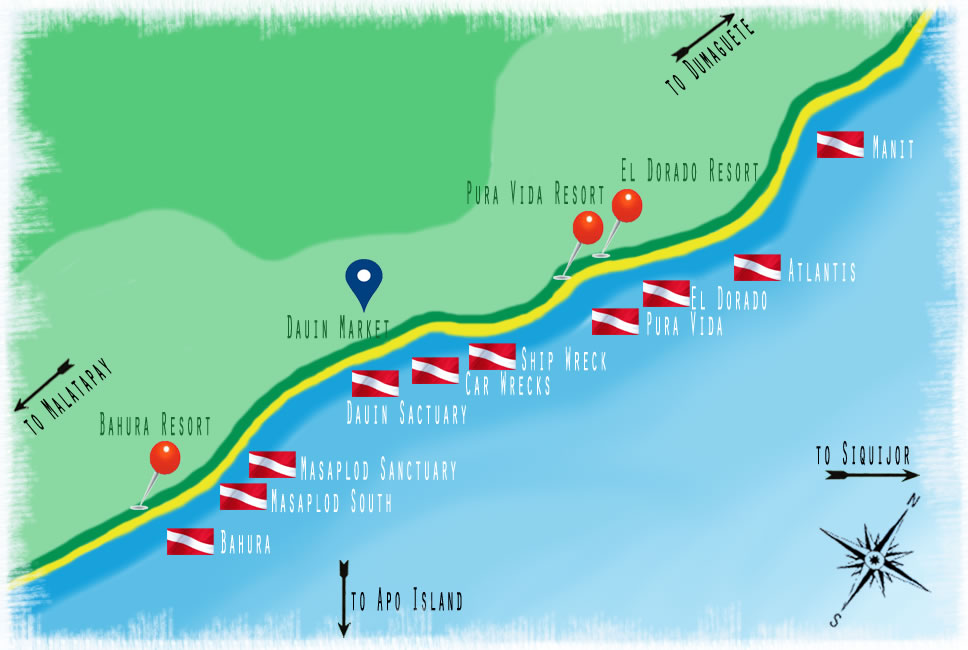 Here you can see most of the dive sites Dauin has to offer. We have dive sites suitable for beginners, as well as more advanced divers. Mostly we dive from the shore / beach and there is a sandy slope gradually going down to 20-25 meters.
Apo Island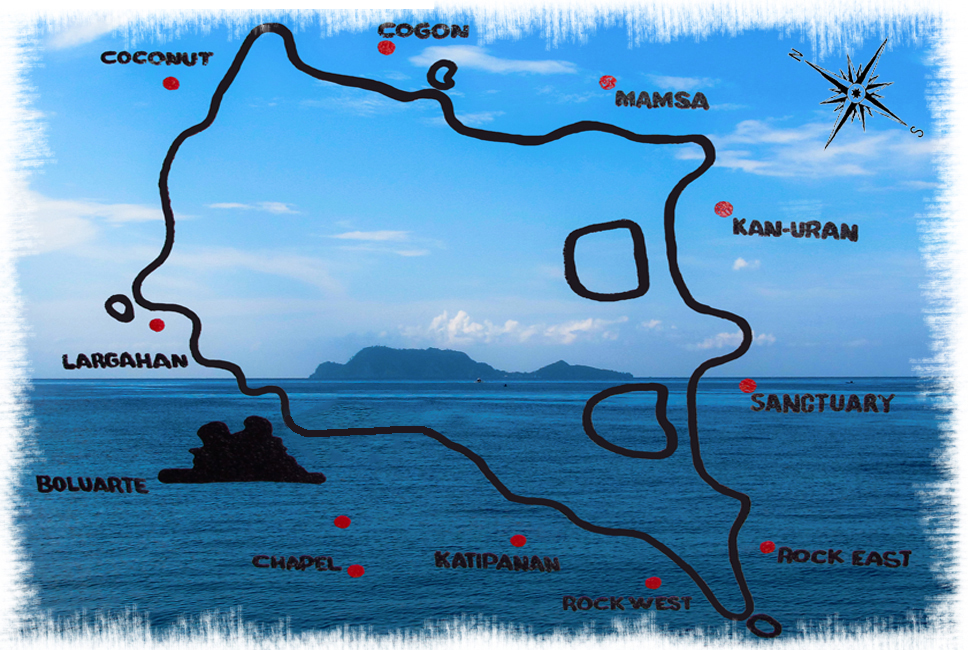 Here you can see most of the dive sites Apo has to offer. We have dive sites suitable for beginners, as well as more advanced divers. Apo has all to offer a diver wants: pristine corals, drift / deep diving, turtles, other precious marine life etc.
Our dive shop Dumaguete Divers offers regular trips from Dauin to Apo Island (2 - 3 dives trips including lunch on board).
Dive Courses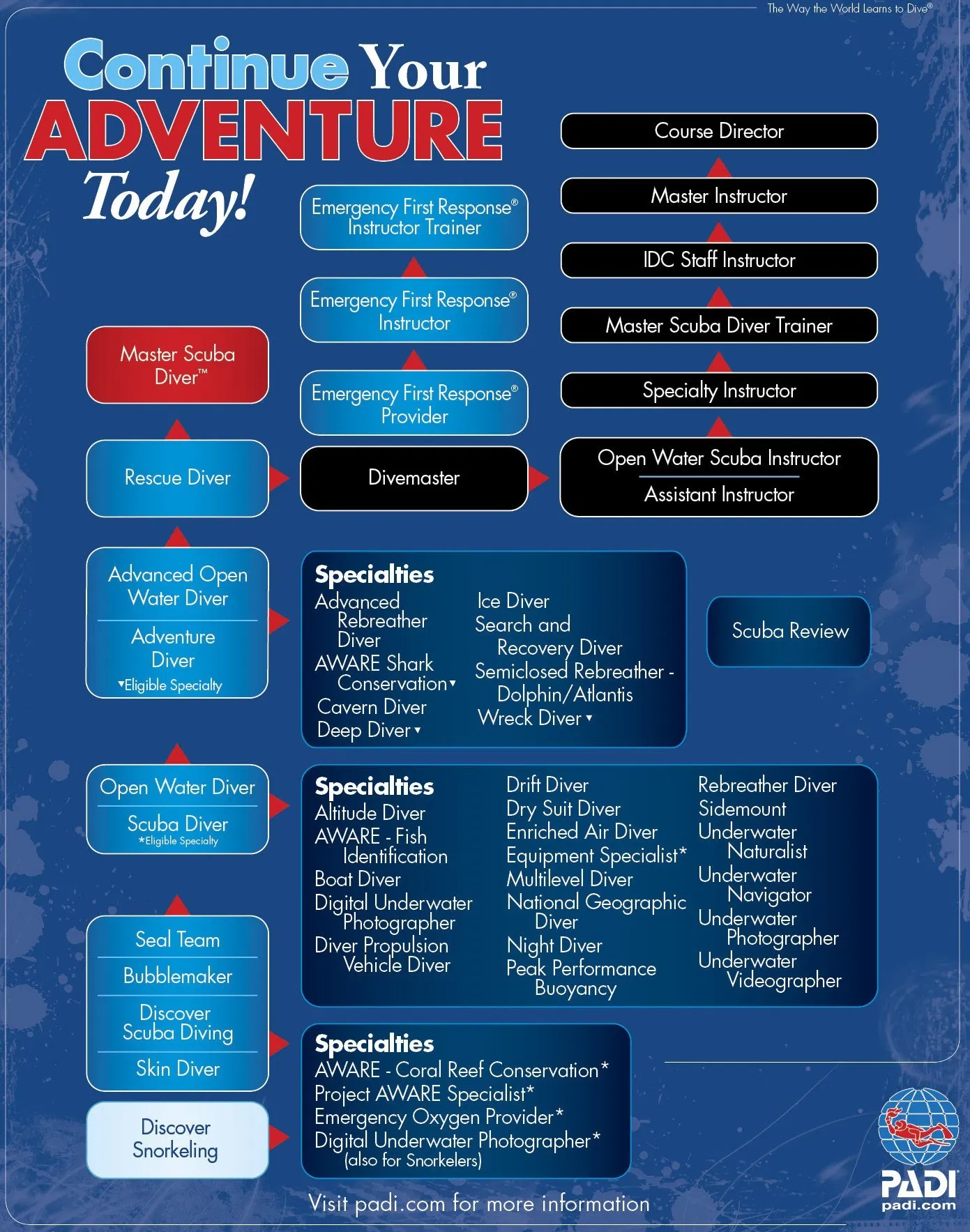 If you don't have any experience in scuba diving and you want to try, we can offer you a dive course. We offer all PADI and SSI standard dive courses up till the level of Divemaster, and this at very competitive prices. If you have a license from a different fedration than PADI, you can still join our fun diving. If you want to get a higher level, we can scale you in acoording to PADI standards. Following courses we offer:
DSD - Discover Scuba Dive DSD app / DSD web
(Junior) Open Water Diver
Advanced Open Water Diver
Rescue DIver
Divemaster
We also offer following specialties:
Nitrox diver
Deep Diver
Underwater Photography
Wreck Diver
Peak Peformance Buoyancy course
Night Diver
The typical beginner course is Padi Open Water Diver. Here we will learn you the basic techniques in 5 confined water session (pool or pool-like conditions). Course includes also a minimum of 4 real open water dives, where we will practise what we learned in the pool and gain more experience and confidence. At least 2 dives will be by boat. There is also a theory part, which you can study already at home if you want.
Dumaguete
The laid back student city of Dumaguete is well worth exploring.
Highlights include Rizal Boulevard, there's something charming about the harbour front, it's a great place to sit and watch the world go by.
Dumaguete is also home to a 15th Century Coral Stone Bell Tower. (see picture above) The bell tower looks beautiful anytime of the day, but a visit after the sun has set is well worth it. Locals come to light candles, its a beautiful sight.
Shopping spree: Shop till you drop if you can at Lee Plaza Dumaguete, where just about everything you need can be bought, at reasonable prices. It has an excellent food court too, with great food choices to boot. This nice mall is very near Rizal Boulevard, Silliman University, churches, restaurants, and hotels. Also recommended is Robinsons Place Dumaguete at Calindagan/Dumaguete Business Park; and many other stores and shops in the city worth your scrutiny, even as you just play it by ear, but cheer!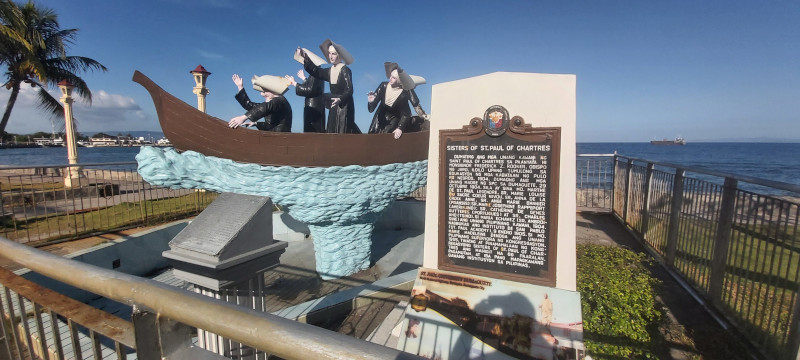 Surrounding areas
Malatapay Market
This is an experience not to be missed! This market brings locals down from the mountains and from neighboring towns to sell their fruits, vegetables, grains, livestock, fish and plastic wares.
It's busy and often chaotic, for those looking for a big dose of local culture Malatapay should not be missed (not to mention it's home to the best Lechon in the region).
Casaroro Waterfall
One of the most photographed falls in the entire province, located on the outskirts of Valencia, Negros Oriental, 9.4 kilometers west of Dumaguete City lies the beautiful Casaroro Falls.
Casaroro Falls are lodged deep into the rock crevices of the rugged Valencia mountains. With an astounding height of 100 feet/30 m, the water plunges into a deep cold basin before it flows down to a stream. The waterfall is considerably narrow, instead of the usual wide cascade, but this is precisely what makes Casaroro unique. Though despite its narrowness, the volume of water that drops is heavy and causes a roar as it touches the pool.
The falls can be accessed via a staircase of approximately 350 steps, followed by a short walk up the river. Before the typhoon in 2011 there was a walk way providing easy access to the falls. It is still possible to get to Casaroro falls today, it just requires a little more effort.
Sensible footwear would be a good suggestion!
Red River Waterfalls & Hot Springs
If you fancy a bit of natural hot and cold therapy, look no further than Red River. Firstly take a dip in the natural plunge pool beneath the colourful waterfalls, then relax in the soothing hot spring waters.
Locally known as Pulangbato- pula meaning red, bato meaning rock. The reddish color that you see is caused by oxidation. The trace iron in the rocks, after having been exposed to the elements oxidised turn red to reddish brown (typical color of rust).
These waterfalls are easily accessible, with no great effort required to reach them. At the falls there is a natural plunge pool, perfect for taking a refreshing dip, alternatively there is a man-made swimming lagoon.
The hot springs are privately and a small entrance fee is charged. Water temperatures at the source range from 37.5 to 39.5 degrees Celsius.
Journey time from Valenica is roughly 20 minutes.
Lake Balanan
Located just outside the town of Siaton. It takes about an hour to reach Siaton from Dumaguete, and a further 40 minutes down a dirt road to reach the lakes. The journey to the lakes in itself is extremely picturesque, passing through rice paddy fields, local villages and with breathtaking views over the surrounding countryside it's well worth the trip.
Lake Balanan is a freshwater lake in the forested mountains of southern Negros. The lake was formed after an earthquake in 1925, which caused a landslide that dammed the Balanan river forming a natural water reservoir that has a surface area of 25 hectares, 285 meters above sea level.
For those who love nature-trekking, there is a four-kilometer circumferential pathway around the lake under a canopy of various indigenous trees. Trekkers will also get a chance to see three majestic waterfalls.
Hiring a canoe offers another great way to see the lake.
Located next to the lake are 3 natural spring water infinity pools.
Mt Talinis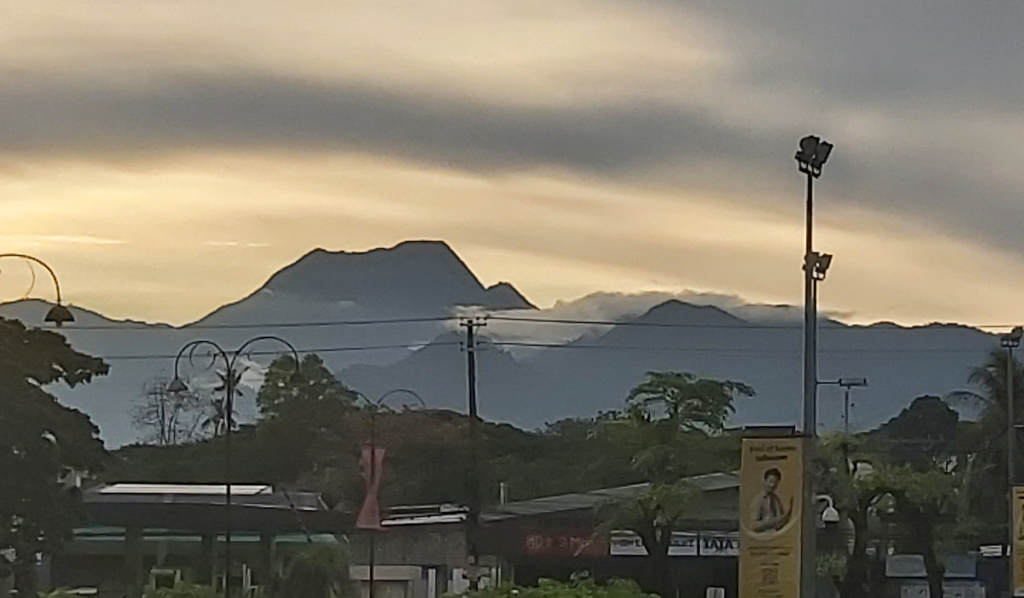 The dormant volcano rising 1864 metres above sea level, this is the second highest peak in Negros. There are various treks available, but we recommend the 3 day trek.
Twin Lakes of Balinsasayao and Danao
Dubbed as Balinsasayao Twin Lakes Natural Park on November 21, 2000 due to proclamation 414, Lake Balinsasayao, together with Lake Danao and Lake Kabalin-an plus the surrounding areas with a vast total area of 19, 810 acres, has become a protected area, due to its rich biodiversity and ecosystem.
Furthermore, since these lakes are on top of a mountain, it has cold waters; however, you may swim, hike, kayak, take pictures, or just chill during your boat ride around here. Serenity to the max!