Regions in the Philippines explained.
Visayas
The Visayas, a collection of islands large and small in the central Philippines, are considered to be the cradle of the country. It was here that Ferdinand Magellan laid a sovereign hand on the archipelago for Spain and began the process of colonization and Catholicization that shaped so much of the nation's history. The islands were also the scene of some of the bloodiest battles fought against the Japanese during World War II, and where General Douglas MacArthur waded ashore to liberate the country after his famous promise, "I shall return".
There are thousands of islands in the Visayas and everywhere you turn there seems to be another patch of tropical sand or coral reef awaiting your attention, usually with a ferry or bangka to take you there. There are nine major island groups – Cebu, Bohol, Siquijor, Negros, Guimaras, Panay, Romblon, Samar, and Leyte – but it's the hundreds in between that make this part of the archipelago so irresistible. Of the smaller islands, some are famous for their beach life (especially Boracay, off the northern tip of Panay), some for their fiestas, and some for their folklore.
Getting around the Visayas is fairly easy, with increasingly efficient transport links. Cebu, Bohol, Negros, Panay, Romblon, Leyte and Samar are all accessible by air, most with daily flights from Manila and, in some cases, Cebu City. Major ferry companies still also ply some routes between Manila and the Visayas, although with increasingly low airfares, these services are dwindling. Within the Visayas, the ferry network is so extensive it doesn't really matter if you can't get a flight. Ferries large and small, safe and patently unsafe, link almost every city and town in the Visayas with neighbouring islands, so it's unlikely you'll ever be stuck for long. But the beauty of the region is that there's no need to make formal plans. There's always another island, another beach, another place to stay.
Cebu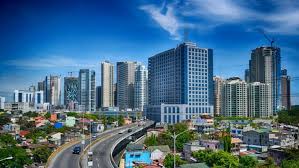 Right in the heart of the Visayas, nearly 600km south of Manila, the island of Cebu is the ninth largest in the Philippines and site of the second largest city, Cebu City, an important transport hub with ferry and air connections to the rest of the Philippines. Cebu is a long, narrow island – 300km from top to bottom and only 40km wide at its thickest point – with a mountainous and rugged spine. Most tourists spend little time in the towns, heading off as soon as possible to the beaches and islands of the north or west. The closest beaches to Cebu City are on Mactan Island just to the southeast, although they are by no means the best. Head north instead to the marvellous island of Malapascua, where the sand is as fine as Boracay's, to tranquil Bantayan off the northwest coast, or to really get away from it all, to the isolated Camotes Islands. To the south of Cebu City, you can take a bus along the coast through the old Spanish town of Carcar and across the island to the diving haven of Moalboal and its nearby beaches.
Getting to Cebu is simple. There are dozens of flights daily from Manila and less frequent flights from a number of other key destinations in the Philippines and Asia. Cebu's position in the middle of the country makes it an excellent place to journey onwards by ferry, with sailings to Luzon, Mindanao and elsewhere in the Visayas.
More about Cebu in our page 'Moalboal and surroundings'.
North of Cebu Island
Scuba diving in Malapascua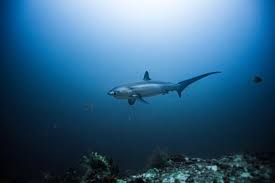 Malapascua Island, located in the northern part of Cebu, is just one of the many islands you can explore in the Philippines. But what makes this small island a must-visit is that it's the only place in the whole world where you can dive with thresher sharks on a nearly daily basis.
Compared to other more popular island destinations in the Philippines. Malapascua Island is less commercially developed. And that relaxing and friendly beach vibe actually makes the island even more inviting.
With a length of 2.5 kilometers and a width of 1 kilometer, you can explore the whole island in less than 2 hours, depending on how long it takes for you to marvel at its many tourist spots and activities.
Even though most people visit Malapascua Island to dive and see the thresher sharks and other marine life, its small island culture, smaller crowds, and the long stretch of white-sand beaches are what makes travelers come back for more.
Scuba Diving
Places of interest:
Monad Shoal: Tresher sharks cleaning station, you have to wake up early!
Gato Island: Famous for its seasnakes and reef sharks!
Dona Marilyn wreck: 98m long former ferry that sank near Malapascua Island in October 1988 during a Typhoon while sailing from Manila to Cebu.
The best time to visit is between the months of December to April. It's always best to schedule your trip to Malapascua Island during this dry season, where there are fewer chances of rainfall and typhoon.
Relaxing on the beaches in Bantayan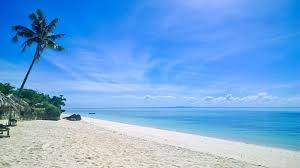 Bantayan Island, located at the northernmost tip of Cebu, boasts stunning beaches and eco-tourism sites where you can do sightseeing, swimming, cliff diving, island-hopping, kayaking, and even skydiving.
Aside from being a beach destination, Bantayan Island is also a fishing community. It plays Cebu's fishing grounds, supplying fresh catch to towns and provinces as far as Manila and Mindanao. They're famous for their danggit (dried fish).
Because of this, you'll be sure to fill your days with food tours feasting on the freshest seafood dishes for a lower price during your trip to Bantayan Island.
Idyllic beach trips, island-hopping, exciting water activities, and inland tours, to gastronomic seafood adventures await you in Bantayan Island. Use this ultimate travel guide to plan your trip to this paradise in Cebu.
You will enjoy Bantayan Island the most during its dry season, usually from February to Mid-May, which also includes the summer season in the Philippines. We recommend avoiding the months of June to September since that's often the typhoon or wet season in the Philippines.
Camotes Islands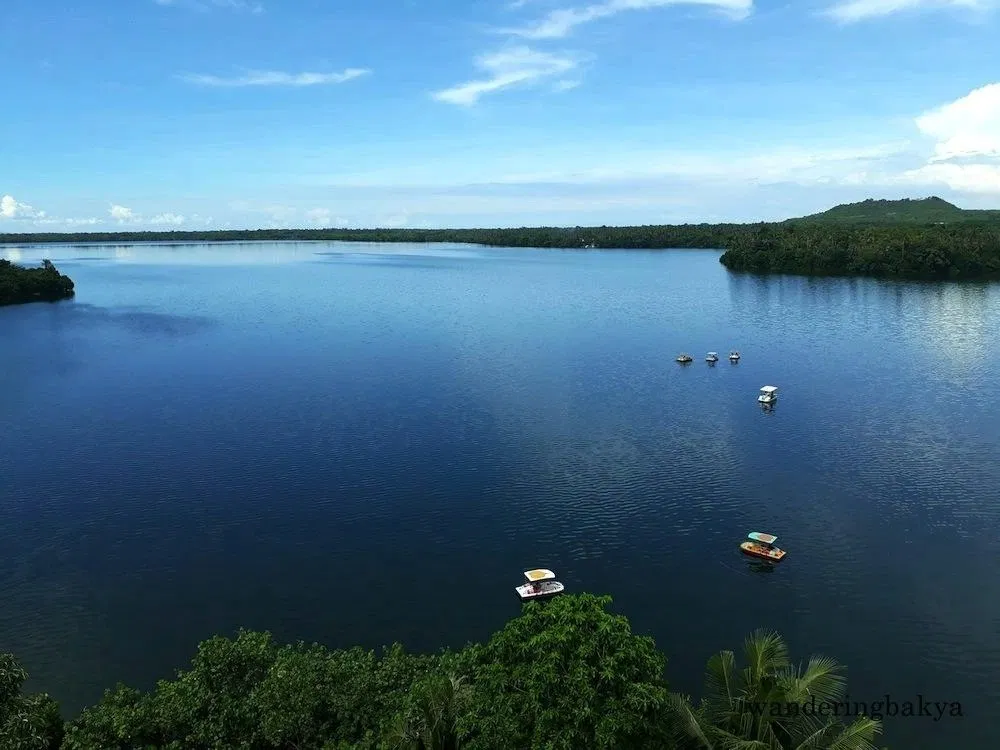 Be found in the "Lost horizon of the South". Camotes Islands, a group of islands in the Camotes Sea, Philippines, is now one of the summer's most budget-friendly destinations in Cebu. Giving us more than its great beaches, its known natural caves, lakes and falls will connect you to the raw beauty of nature.
More info about Camotes, you find here.
South of Cebu Island
All South of Cebu island is discussed on our page about Moalboal.
Negros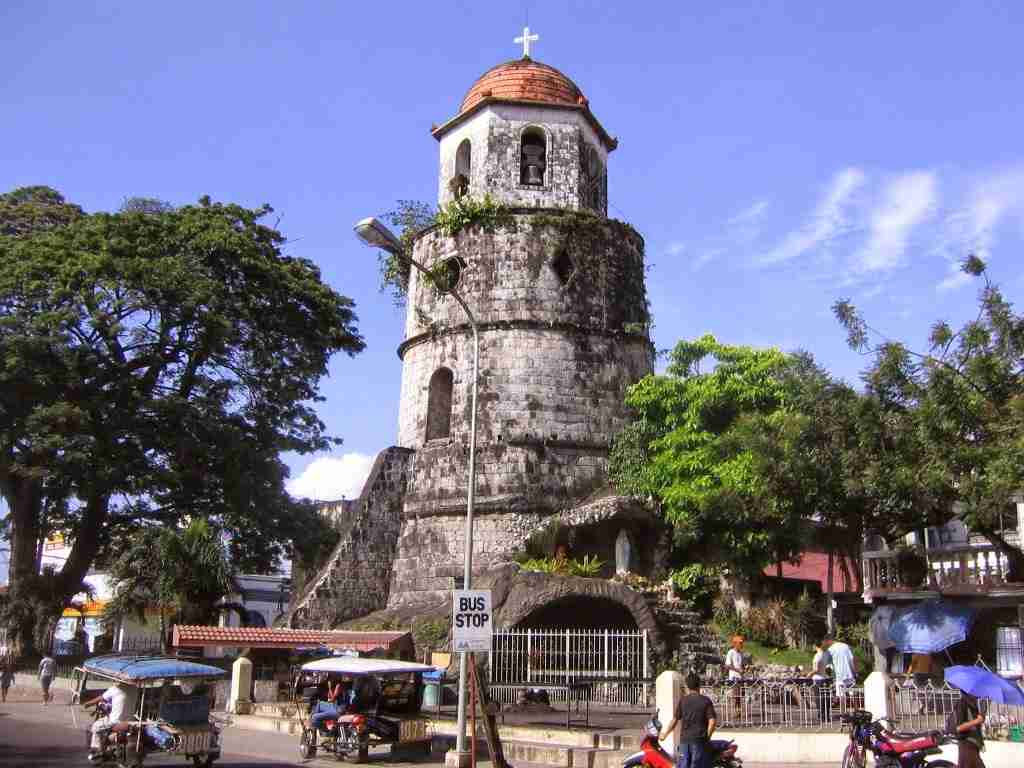 The island of NEGROS, fourth largest in the country and home to 3.5 million people, lies at the heart of the Visayas, between Panay to the west and Cebu to the east. Shaped like a boot, it's split diagonally into the northwestern province of Negros Occidental and the southeastern province of Negros Oriental. The demarcation came when early missionaries decided the thickly jungled central mountain range was too formidable to cross, and is still felt today with each side of the island speaking different languages – Cebuano to the east and Ilonggo to the west.
Today Negros is known as "Sugarlandia", its rich lowlands growing two-thirds of the nation's sugar cane and you'll see evidence of this in the vast silver-green expanse of sugar-cane plantations stretching from the Gulf of Panay across gentle foothills and on to volcanic mountains of the interior. The mountains rise to a giddy 2465m at the peak of Mount Kanlaon, the highest mountain in the Visayas. For the intrepid this means there's some extreme trekking and climbing on Negros, from Mount Kanlaon itself to Mount Silay in the north. From Bacolod, the capital of Negros Occidental, you can follow the coastal road clockwise to Silay, a beautifully preserved sugar town with grand antique homes and old sugar locomotives. Much of the north coast is given over to the port towns through which sugar is shipped to Manila, but at the southern end of the island around Dumaguete there are good beaches and scuba diving, with a range of excellent budget accommodation. The southwest coast – the heel of the boot – is home to the island's best beaches, and remains charmingly rural and undeveloped, with carabao in the fields and chocolate-coloured roads winding lazily into the farming barrios of the foothills.
Because the huge amount of sugarcane production, Negros is also home to the excellent Don Papa Rum.
Brief history
Among Negros's earliest inhabitants were dark-skinned natives belonging to the Negrito ethnic group – hence the name Negros, imposed by the Spanish when they set foot here in April 1565. After appointing bureaucrats to run the island, Miguel Lopez de Legazpi placed it under the jurisdiction of its first Spanish governor. Religious orders wasted no time in moving in to evangelize the natives, ripe for conversion to the true faith. The latter half of the eighteenth century was a period of rapid economic expansion for Negros, with its sugar industry flourishing and Visayan ports such as Cebu and Iloilo open for the first time to foreign ships. In the last century the rapacious growth of the sugar industry and its increasing politicization were to have disastrous consequences that are still being felt today.
Apo Island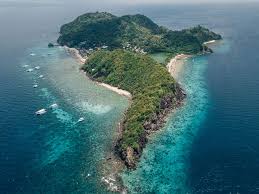 Tiny, volcanic Apo Island, 7km off the south coast of Negros, has become a prime destination for divers, most of whom head out for the day from Dumaguete, Dauin or Siquijor. Site of one of the Philippines' first and most successful marine reserves, Apo has a series of reefs teeming with marine life, from the smallest nudibranch to the largest deepwater fish. The sanctuary area is on the island's southeast coast, while much of the flat land to the north is occupied by the only village, home to four hundred fisherfolk and farmers. Non-divers needn't be bored; Apo has some fantastic snorkelling and it's a great little island to explore on foot.
Most tourists visiting Apo take an organized trip from Dumaguete or Bais, though you can travel independently on one of the regular bangkas from Silliman Beach in Dumaguete and from Malatapay. The trip takes about 45 minutes There are only two places to stay on the island.
Among other dive sites, Calong-Calong Point off the southern tip of Negros is known for its dazzling number of smaller reef fish. Nearby is Tacot, a tricky deep dive where sharks are common. From the coastal towns to the south of Dumaguete you can take a bangka to Siquijor, where sites such as Sandugan Point and San Juan go as deep as 65m, and where you can expect to see tuna, barracuda and sharks plus, from March to August, manta rays. You can arrange trips to these sites through the dive operators in Dauin or Dumaguete.
Mount Kanlaon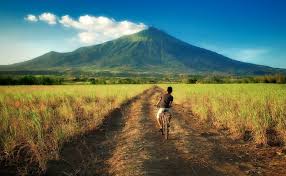 At 2435m Mount Kanlaon, two hours south from Bacolod by jeepney, is the tallest peak in the central Philippines and offers a potentially dangerous challenge. One of the thirteen most active volcanoes in the country, there's the real possibility of violent eruptions and climbers have died scaling it. The rim of the crater is a forbidding knife-edge overhanging an apparently bottomless chasm. The dense surrounding forest contains all manner of wonderful fauna, including pythons and tube-nosed bats and locals believe the mountain is home to many spirits. It also features in Philippine history being where President Manuel Quezon hid from invading Japanese forces during World War II.
Climbing the vulcano is not possible these days, since it is considered active. But the region is fabulous driving around by rented motorbike!
Bohol
Bohol, a two-hour hop south of Cebu, is an attractive little island where life today is pastoral and quiet. The only sign of heavy tourist activity is on the beautiful beaches of Panglao, a magnet for scuba divers and sun worshippers, close to the utilitarian port capital of Tagbilaran. Most visitors only leave the beach for a day tour taking in the Bohol's most famous attractions: the much-touted Chocolate Hills, a glimpse of the endangered tarsier, lunch on the Loboc River and a visit to the Blood Compact site, memorial to Bohol's violent past. Those with more time will be rewarded by trips to other parts of the province, including the adventure centre at Danao, the attractive island of Cabilao and the pretty beaches of Anda. Bohol is also renowned for its wonderful old Spanish churches, many of them built with coral, which can be found all over the island, notably at Baclayon and Albuquerque. May is fiesta month on Bohol with island-wide celebrations including barrio festivals, beauty pageants, street dancing and solemn religious processions.
Chocolate Hills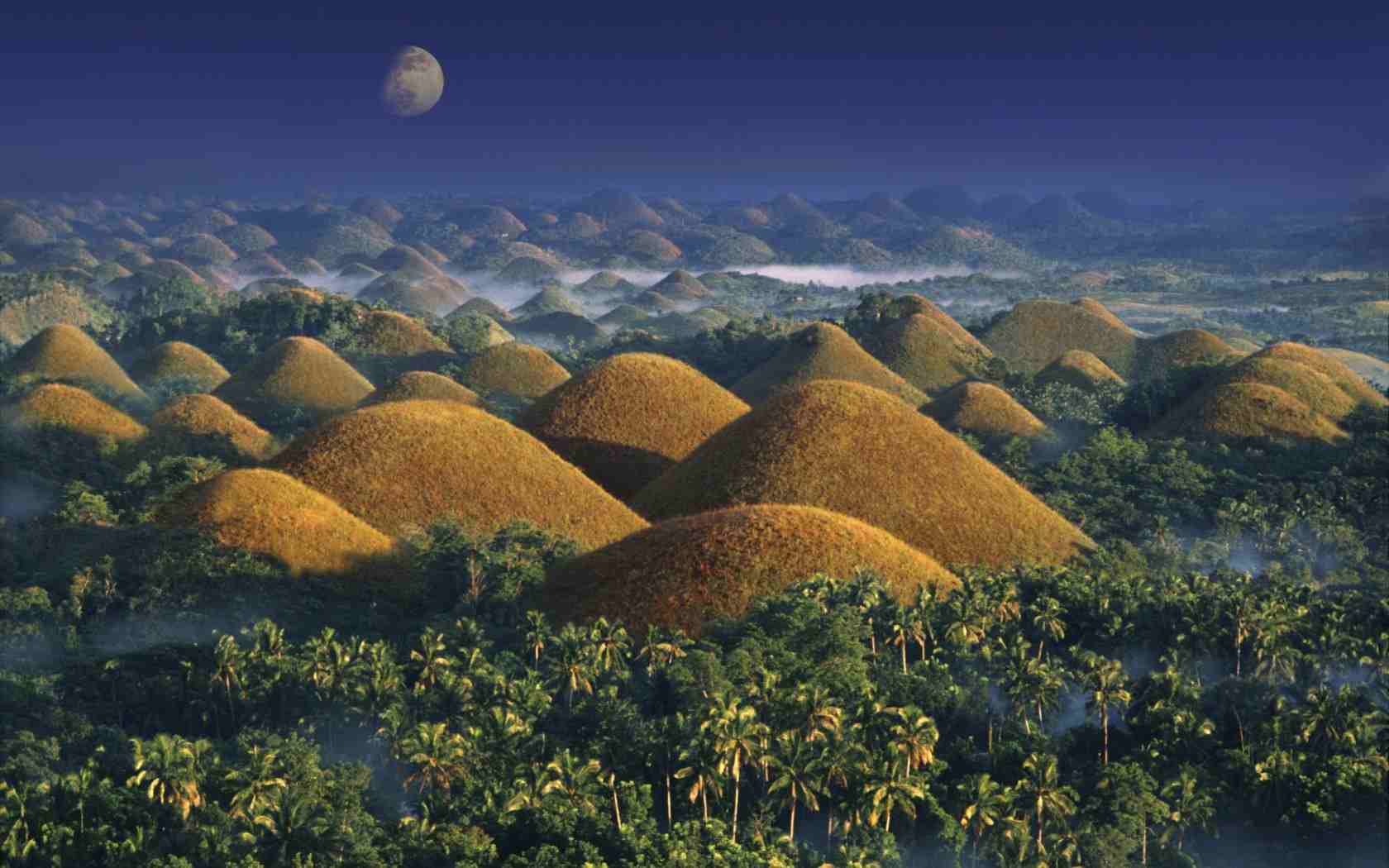 Chocolate Hills are renowned throughout the Philippines and one of the country's biggest tourist attractions. Some geologists believe that these unique 40-metre mounds – there are said to be 1268 of them if you care to count – were formed from deposits of coral and limestone sculpted by centuries of erosion. Most locals, however, will tell you that the hills are the calcified tears of a brokenhearted giant while others prefer the idea that they were left by a giant carabao with distressed bowels. What you think of the hills will depend largely on the time you visit. During the glare of the day the light casts harsh shadows and the hills lose their definition. But at dawn or dusk they look splendid, especially during the dry season (Dec–May) when the scrub vegetation that covers the hills is roasted brown, and they really do resemble endless rows of chocolate drops.
Siquijor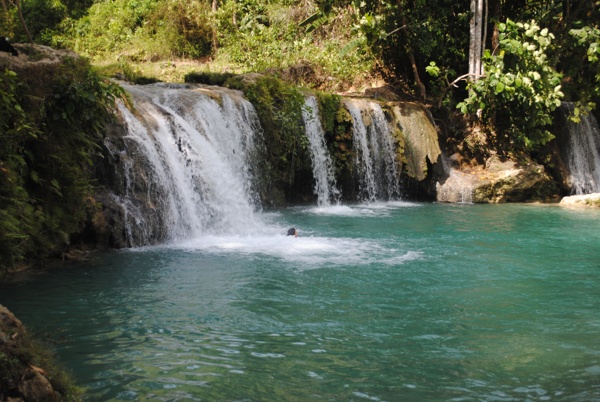 Small, laidback Siquijor lies between the Cebu, Negros and Bohol islands and makes a worthwhile stop on a southern itinerary. Very little is known about the island and its inhabitants before the arrival of the Spanish in the sixteenth century who named it the Isla del Fuego ("Island of Fire") because of the eerie luminescence generated by swarms of fireflies. This sense of mystery still persists today, with many Filipinos believing Siquijor to be a centre of witchcraft. Shamans aside, Siquijor is peaceful, picturesque and a pleasure to tour, whether by bike, tricycle, motorbike or jeepney. The beaches alone make it worth a visit, but there are also mountain trails, waterfalls and old churches to explore as well as decent scuba diving.
Most places to stay are within half an hour of the port towns of Siquijor and Larena, notably around San Juan, south of Siquijor, and at Sandugan, north of Larena. A number of resorts have certified dive operators who will take you on trips to places such as Sandugan Point and Tambisan Point, both known for their coral and abundant marine life. At Paliton Beach there are three submarine caves where you can see sleeping reef sharks and at Salag-Doong Beach on the eastern side of the island divers have occasionally reported seeing manta rays and shoals of barracuda. Further afield but still within easy reach, Apo Island is another dive favourite, and is worth a visit even if you stay above water.
Leyte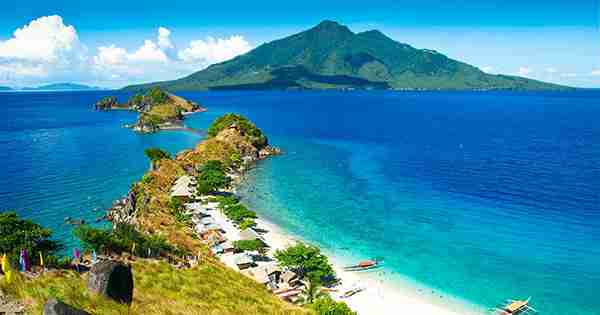 Leyte is an island in the Eastern Visayas island group in the Philippines. It is divided into two provinces, Leyte Province and Southern Leyte. Each province includes some nearby smaller islands. Leyte is connected by bridges across narrow straits to the larger Samar Island and to the smaller Biliran island. The two largest cities are the capital, Tacloban, on the east coast near Samar Island, and Ormoc on the western coast.
Because most of Leyte is very remote, it is not yet discovered by mass tourism. Leyte still has some untouched reefs for scuba diving and is ideal for adventurous travelers who like to explore.
More to do in Leyte, please visit this website.
Palawan
Palawan is the Philippines' last frontier, a largely unexplored and unexploited province of wonderful scenery and idyllic tropical beauty. Beyond the centres of Coron, El Nido and Puerto Princesa, tourism has yet to penetrate much of this long, sword-shaped island to the southwest of Luzon, and travellers who make it here will find a marvellous Jurassic landscape of coves, beaches, lagoons and razor-sharp limestone cliffs that rise from crystal-clear water. Offshore, despite some damage from dynamite fishing and coral bleaching, there always seems an untouched reef to discover.
The capital of Palawan, Puerto Princesa, is the main entry point and is close to the mangrove islands of Honda Bay and the immense flooded cave systems that make up the mind-boggling Underground River. Further north you'll find the pretty beach resort town of Port Barton, the old fortress town of Taytay and the incredibly beautiful islands and lagoons of El Nido and the Bacuit archipelago. Many areas are still relatively unaffected by tourism, such as the friendly little fishing village of San Vicente and nearby Long Beach, one of the finest stretches of sand anywhere. Undeveloped Southern Palawan contains some of the least visited areas in the whole country, from the remains of a Neolithic community in the Tabon Caves and the turtle and cockatoo sanctuaries at Narra, to Brooke's Point, the access point for Mount Matalingajan.
The Calamian group of islands, scattered off the northern tip of the main island of Palawan, has a deserved reputation for some of the best scuba diving in Asia, mostly on sunken World War II wrecks. Even if you're not a diver, there's plenty to do here. The little town of Coron on Busuanga is the jumping-off point for trips to mesmerizing Coron Island, with its hidden lagoons and volcanic lake and, to the south, the former leper colony of Culion.
The Calamian Islands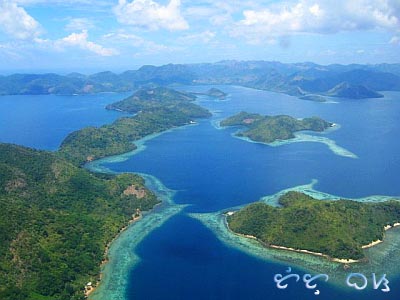 The island-hopping, kayaking, diving and trekking in the Calamian Islands, to the north of mainland Palawan, in many ways trumps the parent island, especially when it comes to its world-famous wreck diving. From the main settlement of Coron Town on the largest island, Busuanga, you can explore the awe-inspiring islands and reefs of Coron Bay, beginning with the lagoons and coves hidden among the staggering limestone cliffs of Coron Island. Here you can climb up to volcanic Kayangan Lake, not only a bewitching place to swim but also one of the Philippines' most unusual dive sites. Further south is Culion Island, the intriguing former home of a leper colony, while off the northern tip of Busuanga, Calauit is the home of a bizarre African wildlife sanctuary. The waters around the Calamians are also feeding grounds for the endangered dugong.
Busuanga Island and Coron Town
Busuanga is the largest island in the group, but is mostly wild and undeveloped, with little to see beyond the lively fishing community of CORON TOWN on the south coast, the main base for exploring the shipwrecks in adjacent Coron Bay.
Non-divers will find the pristine snorkelling, swimming and hiking trails nearby just as enticing, and the phenomenal views across the bay from the town to Coron Island never get old; these are best appreciated from the top of Mount Tapyas, a steep 30 to 45-minute hike along the trail at the end of San Agustin Street.
Diving in the Calamian group
It's the World War II Japanese shipwrecks in the Coron area that most divers come for. There are 24 wrecks in all, boats sunk in one massive attack by US aircraft on September 24, 1944.
Irako
The best of the wrecks and still almost intact; it's home to turtles and enormous groupers, who hang in mid-water and eyeball you as you float past. A swim through the engine room reveals a network of pipes and valves inhabited by moray eels and lionfish, which look like liquid flame and have spines that deliver a hefty dose of poison.
Akitsushima
A big ship lying on her side with a crane once used for hoisting a seaplane. Between Culion and Busuanga islands, near Manglet Island, the wreck attracts huge schools of giant batfish and barracuda.
Kogyo Maru
Japanese freighter lying on her starboard side in 34m of water. In the large cargo holds you can see loaded construction materials, a cement mixer and a small bulldozer, while there are anti-aircraft weapons on deck.
Morazan Maru
Japanese freighter sitting upright at 28m. Large shoals of banana fish, giant batfish and pufferfish the size of footballs can be seen, especially around the mast, bow and stern. It's easy to get into the cargo holds, making this a good wreck dive for beginners.
Taiei Maru
Japanese tanker covered with beautiful corals and a large variety of marine life. The deck is relatively shallow at between 10m and 16m deep, and is well suited to wreck-dive beginners.
Barracuda Lake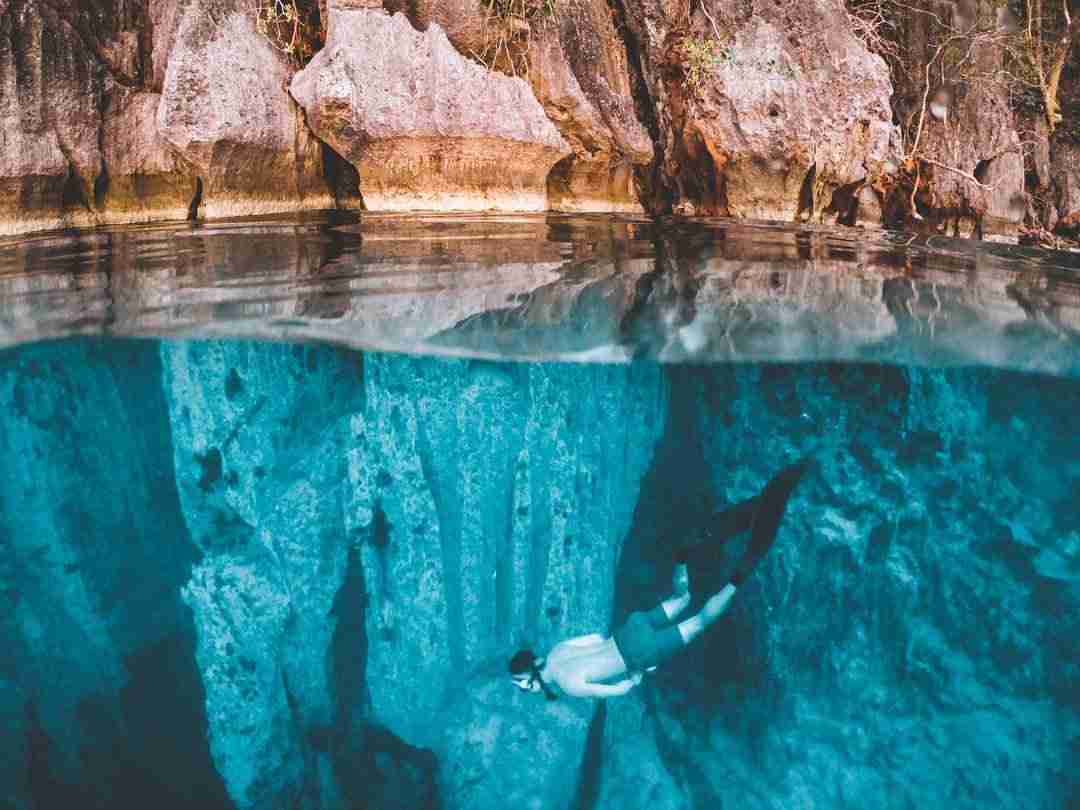 Tucked away among the 7,107 islands in the Philippines is a little piece of magic called Barracuda Lake. A crater of blue water enclosed by limestone cliffs that stretch up to meet the even bluer Filipino sky, Barracuda Lake is luxuriously warm and impossibly clear – a rare calm haven for divers and snorkelers. Locally known as Luluyuan Lake, this body of water is just a 20 to 25 minute boat ride from Coron on Palawan, leaving from Lualhati Wharf, and beneath the calm waters, the feeling is not unlike walking on another planet.
Barracuda Lake – named after the large barracuda fish skeleton discovered in it – is a truly unique diving experience. As if the clear blue water contrasting against dark limestone cliffs wasn't enough, this lake holds a secret not visible from the surface.
The water temperature at the top of the lake is around 28 degrees Celsius. At a depth of around 14 meters the water temperature increases from 28 degrees Celsius to 38 degrees Celsius, giving divers an opportunity to fully experience the thermocline, an area where water of different temperatures mix. The water becomes cooler again closer to the bottom. It also changes from a clear blue to tea brown at 34 meters. This is due to the tannic acid from leaves that fell into the lake.
Not only is the experience of the temperature change interesting, at 4 meters the water changes from fresh water to salt water. Here divers can see a heliocline (an area where water with different salinity contents mix). It looks almost like a long, thin, black-grey, horizontal tornado in the distance. Another heliocline can be seen at 14 meters.
The bottom of Barracuda Lake is a thick, soft, silky, silty sand. Divers often remove their fins in the shallows to play around in the sand and amongst the rocks and submerged tree-branches. This creates the effect that is often likened to what it might feel like to walk on the moon.
Descending into Barracuda Lake offers a sensory experience unlike any other dive site. The change in water temperature, mixed with the difference in salinity make for a constantly changing environment – one that every diver needs to experience. The water is warm and clear and, although the marine life is a bit scant, the weightless feeling of walking (or, yes, even dancing) on the moon is not to be missed.
Port Barton
On the northwest coast of Palawan, roughly halfway between Puerto Princesa and El Nido, PORT BARTON is far less developed than either of its busier rivals. The streets are all dirt tracks, there are no day-trippers and the rhythms of Filipino life go on largely undisturbed by the small groups of travellers lounging in the handful of budget beach hotels. These face crescent-shaped Pagdanan Bay, with magical sunset views – Port Barton beach itself is a gorgeous strip of sugary sand and fine for a quick swim, but the water is often cloudy (especially after rain). Minutes away are fourteen pristine white sand islands, a number of top-notch dive and snorkelling sites and even a couple of waterfalls. Note that electricity is usually available between 6pm and midnight only in Port Barton and there are no banks.
Puerto Princesa
The provincial capital PUERTO PRINCESA is the only major urban sprawl in Palawan, with just over 250,000 residents, a third of the total population. There are a few sights around Puerto Princesa, but hardly any in the city itself (it was founded by the Spanish only in 1872), which is why most visitors treat it as a one-night stop on the way to or from Palawan's beaches and islands.
Honda Bay and Underground River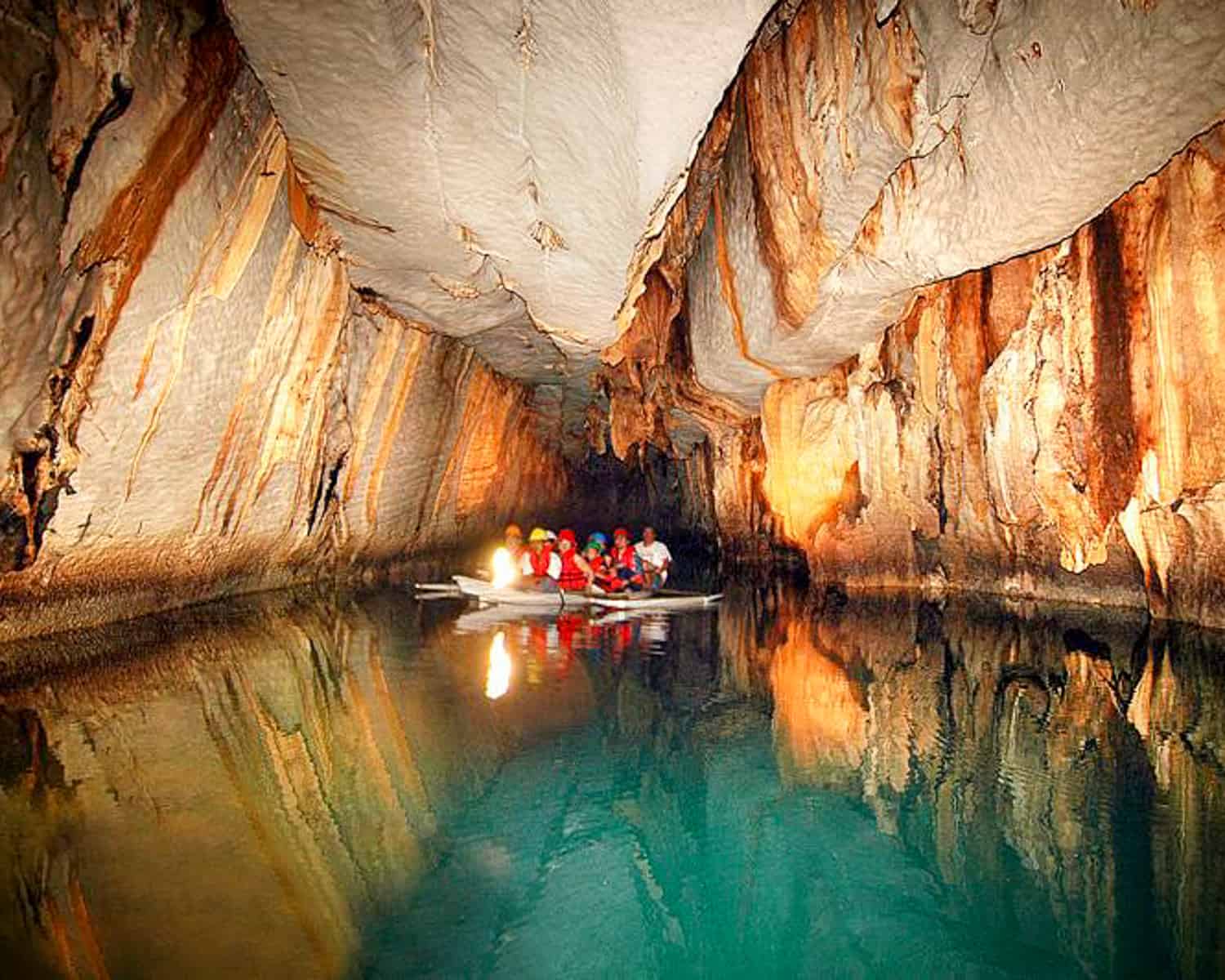 There are several attractions around Puerto Princesa that you can easily visit in a day or less, including Honda Bay and the Underground River. Most tours take in Butterfly Garden, a small but blossom-filled tropical garden laced with hundreds of brightly hued butterflies, and Baker's Hill, a manicured park and snack stop with a couple of aviaries thrown in. The Crocodile Farm & Nature Park breeds endangered crocodiles, while the Iwahig Prison & Penal Farm is an odd though intriguing "Prison Without Bars" established in 1904. Tourists are welcome to wander around the village and take snaps of the surrounding paddies and flocks of egrets, though the main focus is the shop selling handicrafts made by the inmates.
Luzon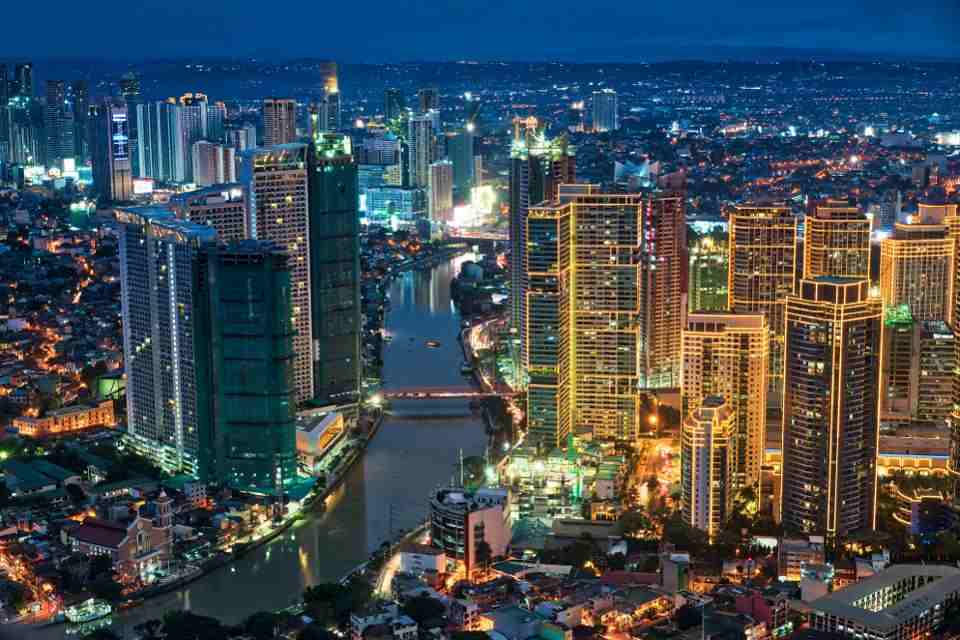 Luzon, largest and most important island of the Philippines. It is the site of Manila, the nation's capital and major metropolis, and of Quezon City. Located on the northern part of the Philippine archipelago, it is bounded by the Philippine Sea (east), Sibuyan Sea (south), and the South China Sea (west). To the north, the Luzon Strait separates Luzon from Taiwan.
Most of the island, a roughly rectangular area, lies north of Manila in a north-south orientation, while south of Manila are two peninsulas, Batangas and Bicol, which extend south and southeast, giving Luzon its irregular shape. Luzon's coastline, more than 3,000 miles (5,000 km) long, is indented by many fine bays and gulfs, including Lingayen Gulf and Manila Bay on the west and Lamon Bay and Lagonoy Gulf on the east. Luzon represents about one-third of the land area of the Philippines, and its greatest dimensions are 460 by 140 miles (740 by 225 km). There is a predominant north-south trend in its rivers and relief features. The important ranges are the Cordillera Central in the north; the Sierra Madre, following much of the east coast; and the Zambales Mountains on the central-western coast. Mount Pulog (9,612 feet [2,930 metres]) is the island's highest peak. Isolated volcanic cones such as the near-perfect and still-active Mayon Volcano (8,077 feet [2,462 metres]) are on Bicol Peninsula. Taal Lake is a crater lake, and Laguna de Bay is the largest (344 square miles [891 square km]) lake in the Philippines. The major rivers are Cagayan, Abra, Agno, Pampanga, and Bicol.
Luzon leads the country both in industry (concentrated near Manila) and in agriculture (rice, corn [maize], coconuts, sugarcane, mangoes, bananas). A central plain stretching 100 miles (160 km) north of Manila is the major grain-producing region. Farther north are the spectacular rice terraces of the Ifugao mountaineers. There are extensive coconut plantations on the Bondoc and Bicol peninsulas. Iron, gold, manganese, and copper are mined. Forest areas yield excellent hardwoods.
In addition to Manila and Quezon City, the main cities are Pasay, Cabanatuan, Legaspi, Baguio, Batangas, and Laoag. More than half of the Filipino population lives on Luzon. Area 40,420 square miles (104,688 square km). Pop. (2000) including adjoining islands, 41,457,466; (2010) including adjoining islands, 50,746,132.
North Luzon
Cordillera
To Filipino lowlanders brought up on sunshine and beaches, the tribal heartlands of the north and their spiny ridge of inhospitable mountains, the CORDILLERA, are still seen almost as another country, inhabited by mysterious people who worship primitive gods. It's true that in some respects life for many tribal people has changed little in hundreds of years, with traditional ways and values still very much in evidence. If anything is likely to erode these traditions it is the coming of tourists: already an increasing number of tribal people are making much more from the sale of handicrafts than they do from the production of rice.
The weather can have a major impact on a trip to the Cordillera, not least because landslides can cause travel delays during the rainy season (particularly May–Nov, but continuing until Jan or Feb). Since the rains come in from the northeast it's the places on the eastern side of the mountains – such as Banaue and Batad – that are usually worst hit, and fog can roll into those areas any time from October to February. Throughout the region it can get cold at night between December and February. It's worth noting that the rice terrace planting seasons vary significantly; the lower-lying areas typically have two plantings a year while the highlands have one. Terraces are at their greenest in the month or so before harvesting, although their barren appearance after a harvest can also look impressive.
Banaue Rice terraces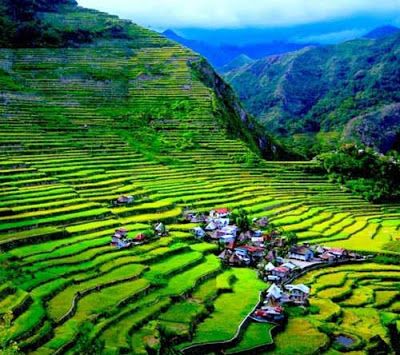 The Banaue Rice Terraces (Filipino: Hagdan-hagdang Palayan ng Banawe) are terraces that were carved into the mountains of Banaue, Ifugao, in the Philippines, by the ancestors of the indigenous people. The terraces are occasionally called the "Eighth Wonder of the World". It is commonly thought that the terraces were built with minimal equipment, largely by hand. The terraces are located approximately 1,500 metres (4,900 feet) above sea level. These are fed by an ancient irrigation system from the rainforests above the terraces. It is said that if the steps were put end to end, it would encircle half of the globe.
Locals up to this day still plant rice and vegetables on the terraces, although more and more younger Ifugaos do not find farming appealing, often opting for the more lucrative hospitality industry generated by the terraces. The result is the gradual erosion of the characteristic "steps", which require constant reconstruction and care. In 2010, a further problem encountered was drought, with the terraces drying up completely in March of that year.
Anthropologist Otley Beyer has estimated that the terraces are over 2000 years old, but several researchers dispute this and contend that they were built much later. There are also giant earthworms ("olang" in Ifugao) of the genus Pheretima or Polypheretima elongata which are blamed for causing damage to the terraces, as well as rodents of the genus Chrotomis mindorensis, and snails.
Sagada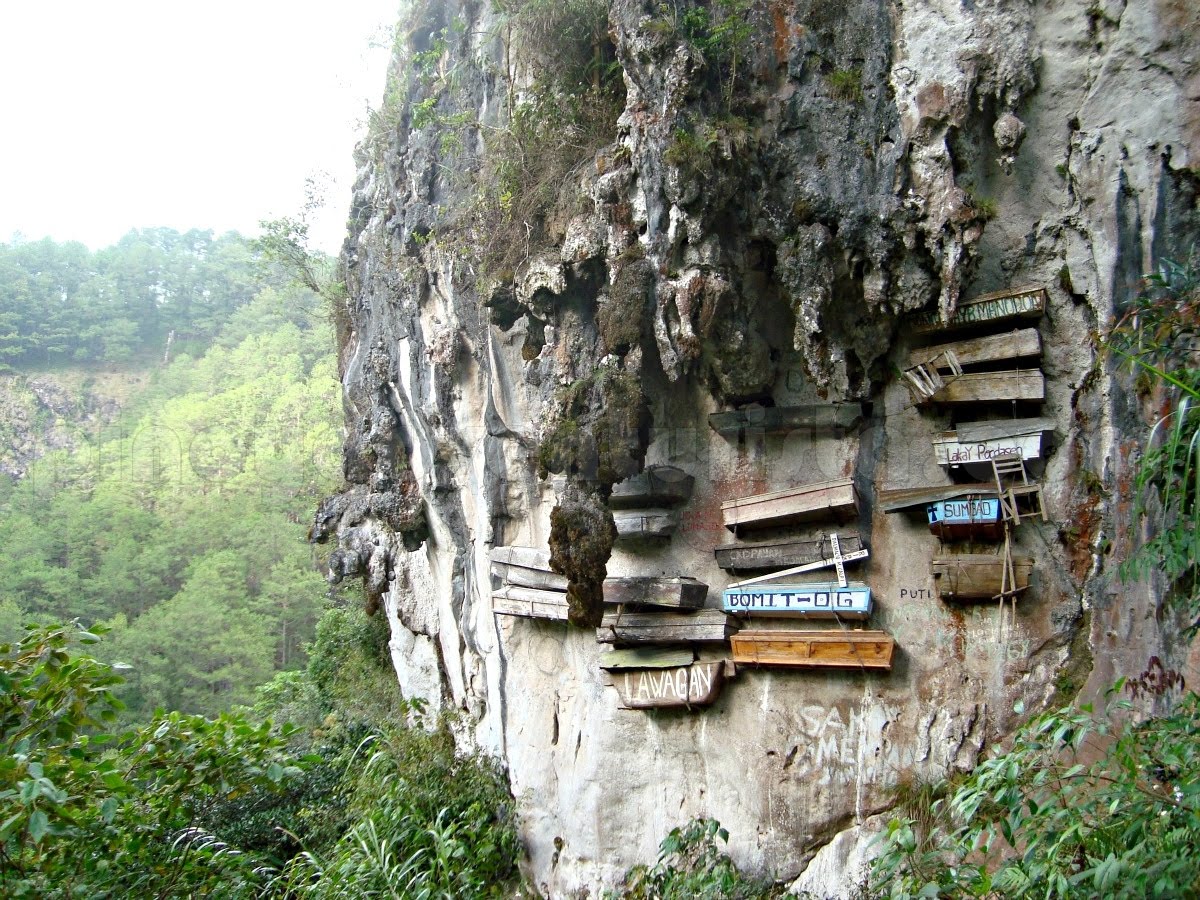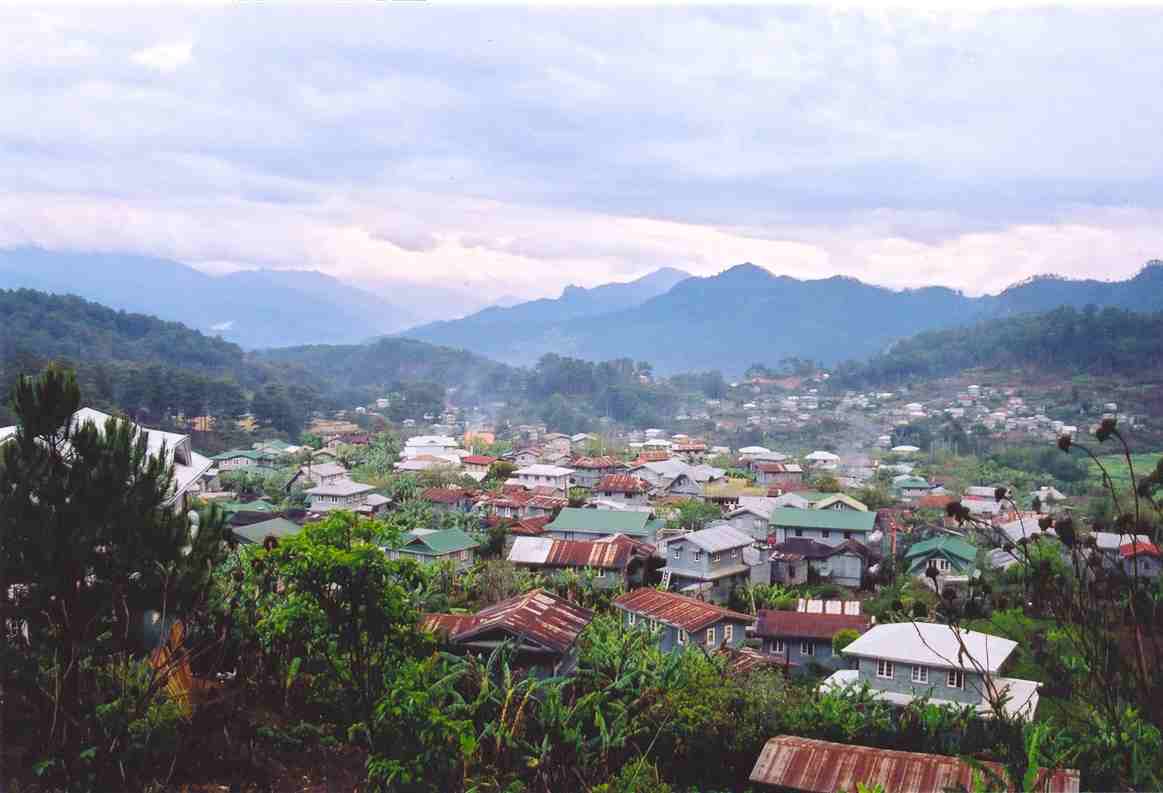 Situated in the Mountain Province of Cordillera Administrative Region in North Luzon, around 415 km from Manila, Sagada offers a relaxing escape from the hustle and bustle of city life.
Famed for its mysterious and historic hanging coffins, these Sagada tourist attractions are a testament to 2,000 years of Igorot burial traditions that you can marvel at today.
Sagada weather is similar to Baguio - chilly on both dry and wet seasons. Being in a mountainous region, it's a haven away from the humidity in other Philippine cities, and where agriculture is a booming business of bountiful fresh vegetables and fruits.
The best time to go and discover Sagada is during the wet season (November to February) where you can expect temperatures that drop to as low as 4 degrees Celsius.
The wet season is also the harvest period for fruits and produce so you can taste the best of Sagada and participate in festivals. The only downside would be the crowds as this is also considered as the peak season for travelers.
In fact, specific festivals are held to celebrate the harvest season from October to early January. Rice is also celebrated through Begnas Festival, a sacred thanksgiving tradition that happens three to four times a year.
Panag-etag, a festival native to Sagada, is a tradition that locals do to preserve their ancient culture, encourage ecotourism, and improve the economy. It happens annually from January 30 to February 2 where every visitor can participate and partake in various ceremonies (parades, holy mass, rituals).
If you want to avoid heavy crowds, you can go just in time before the rainy season starts (June to October). You can expect a colder climate than usual due to the rain showers so it's important to bring raincoats and umbrellas to keep you warm.
The dry season (March to May) is also known as summertime in Sagada. Expect moderate crowds, and warm weather conditions so dress comfortably.
Bontoc
The road from Baguio to Bontoc is the Halsema Highway or "Mountain Trail", a narrow, serpentine gash in the side of the Cordillera that's sometimes no more than a rocky track with vertical cliffs on one side and a sheer drop on the other. Although the surface of the road has been greatly improved in recent years, it can still be an uncomfortable trip by public transport as some of the buses are crowded and not especially well maintained. The views are marvellous, especially as you ascend out of Baguio beyond La Trinidad and pass through deep gorges lined with vegetable terraces.
Bontoc lies on the banks of the Chico River about an hour east of Sagada. Primarily used by tourists as a transport hub, the town is also a good base for trekking and has easy access to the beautiful Maligcong rice terraces. Some of the local tribes can be nervous of foreigners and it would be unwise to approach them without a guide to help smooth the way (P300–500/day).
There isn't much to see in the town itself but don't miss the Bontoc Museum, next to the post office close to the town plaza. It includes photographs of headhunting victims and of zealous American missionaries, and there is a small collection of indigenous buildings outside. The museum shop sells items including handmade jewellery and CDs of traditional music.
More to do in Luzon, please visit this website.
Mindoro
Snugly set between Luzon and Palawan is Mindoro, the backpacker/hiker/diver/beach bum/foodies' dream island! Most of the action for travelers you'll find in on the northeastern tip of the island where there is fantastic diving, chilled-out beach bars, and a variety of upscale and laid back accommodation. Move inland and you'll find Mt. Halcon and Mt. Baco- destinations for avid hikers.
Mindoro's economy has always thrived on the trade of produce. With heavy agricultural roots, you'll find that this island is rich in mangos, coconuts, bananas, citrus, and plenty more fruits and veggies that contribute to some fantastic local cuisine.
Fun Fact: Mindoro is home to the rare Mindoro Dwarf Buffalo. Ask a local where to see them!
From Manila, you can fly to Mindoro's airport in Puerto Galera, or take a bus/boat transfer straight from Manila which takes just a couple hours. For a real local experience, take a Jeepney down some bumpy back roads while you're packed like sardines with local people carry fruit and sometimes livestock. This option is much cheaper and way more memorable.
Puerto Galera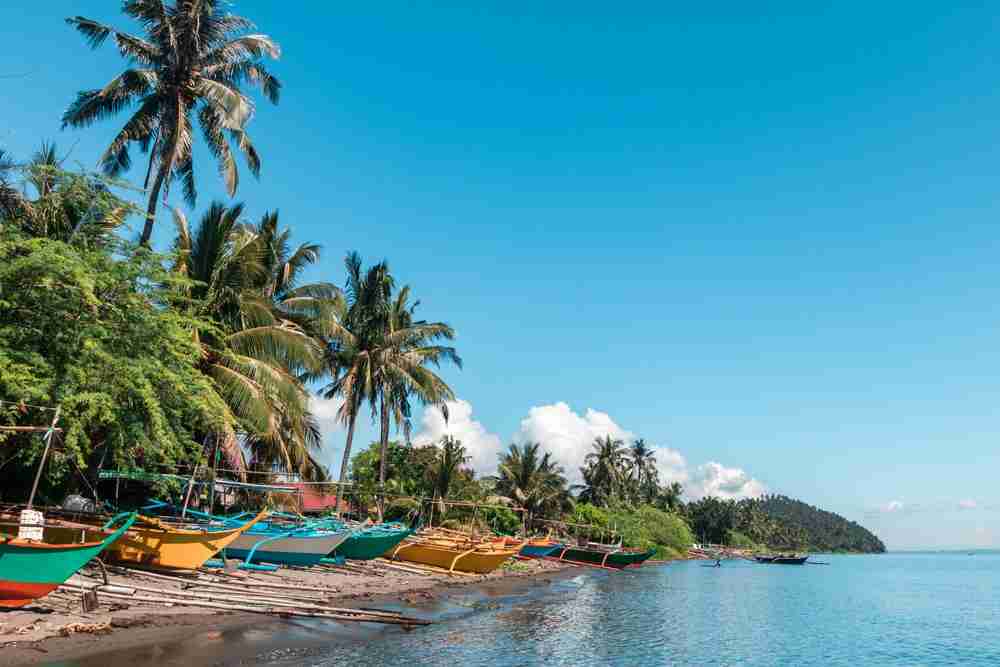 Puerto Galera is a popular little beach town on Mindoro where you'll find the best of both worlds.
For you busy bodies, this vacation destination has lots of food, entertainment, and activities. There is both incredible western food and super cheap Filipino eats. You'll also find a golf course, karaoke spot, and plenty of tour kiosks selling day trips. It's a popular spot for both western's and locals where a comfortable medium is met.
For the wildlife lovers, you'll be pleased to learn that the nature here is spectacular. There is a sublime white sand beach, hidden waterfall via a forest trail, and marine life waiting to be explored.
Sabang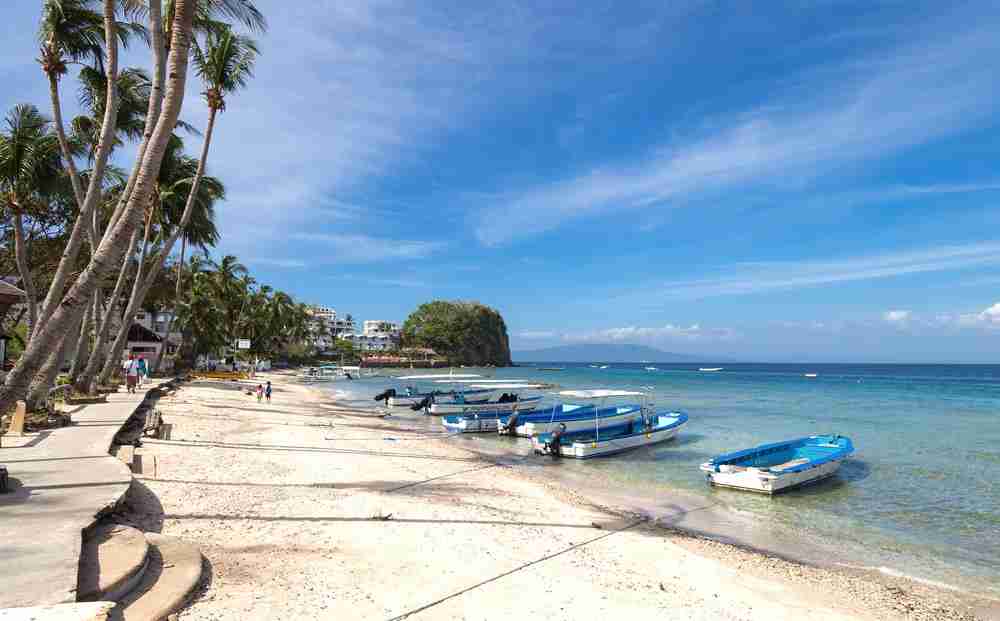 Located at the end of the Verde Island Passage is the magnificent area of Sabang. The small district of Sabang is home to 3 beaches: Sabang Beach, Small La Laguna Beach, and Big La Laguna Beach. They are all connected but each have very different vibes and offer different activities.
Sabang Beach is the party beach. Here you will find lively bars, lots of alcohol, and to put it nicely… many "ladies of the night".
Small La Laguna Beach offers a collection of seaside hotels and resorts. Big La Laguna Beach is the place to go for pristine swimming and sun bathing as it offers the cleanest water and more tranquility than the others.
Scuba diving in Sabang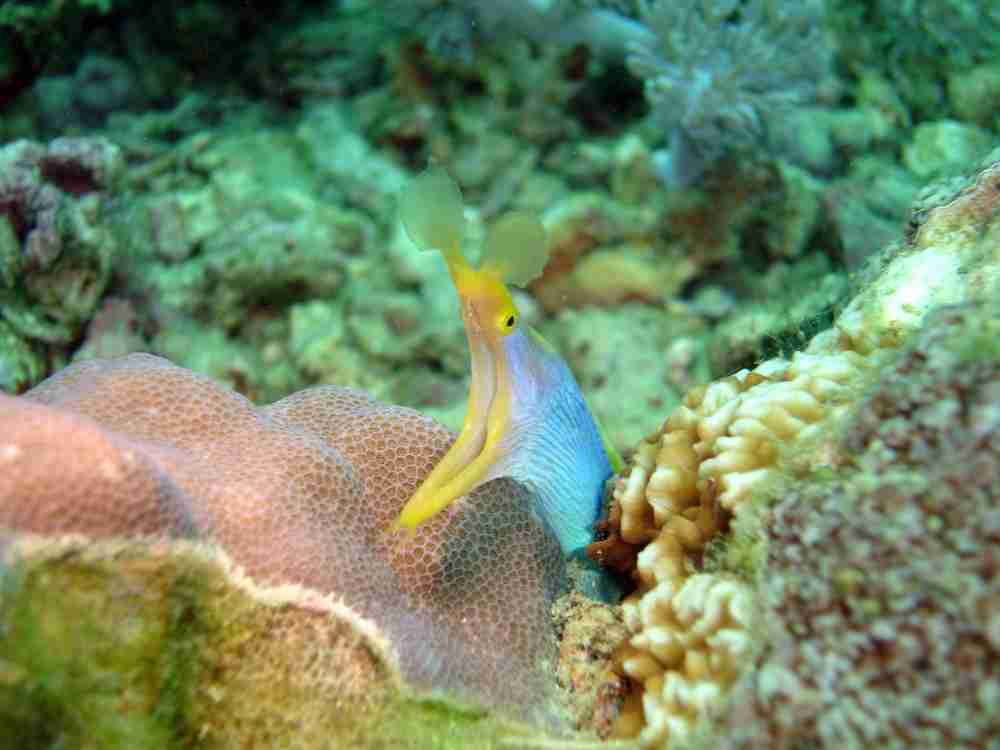 If you want to explore marine life on Mindoro, Sabang is the best place to do it. There are lots of dive spots for you to choose from that are suitable for divers of all levels.
There is The Hill- a dive site home to a coral reef teeming with odd sea creatures such as the Blue Ringed octopus, cuttlefish, Blue Mandarin fish and more. Go for a night dive and you'll even see some shrimp.
Another great dive spot is the Sabang Wreck, which is ideal for beginners. Over the years, this shipwreck has turned into the perfect place for a new reef to form. The structure is covered in vegetation and surrounded by colorful fish!
There are at least 10 awesome dive sites to discover in Sabang.
Tukuran Hanging Bridge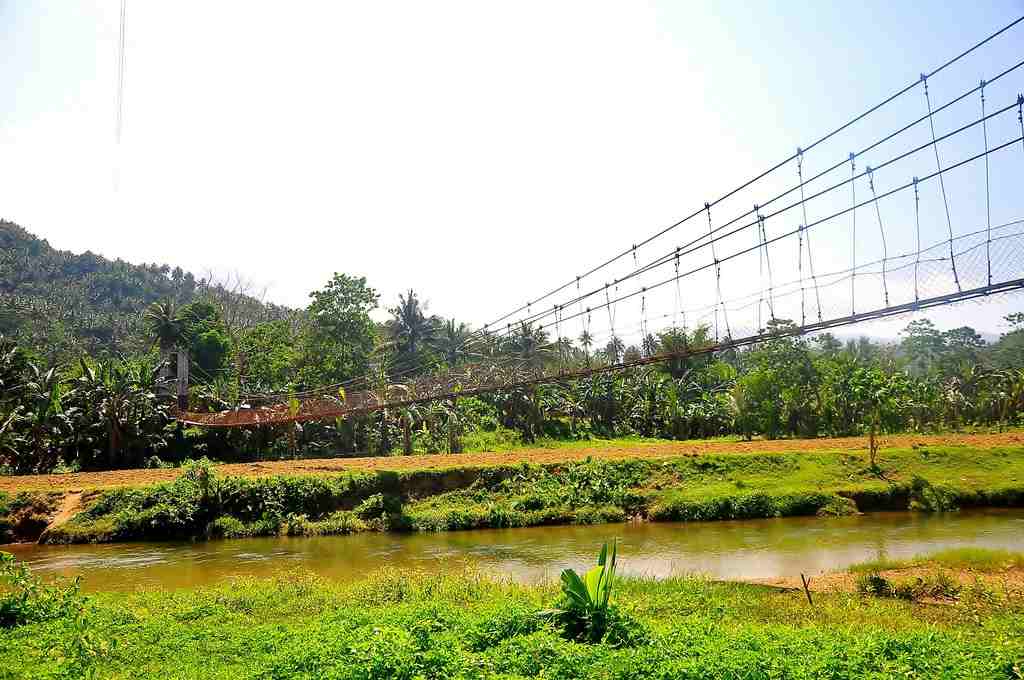 If you've ever watched an adventure movie where pioneers go deep into the jungle only to meet a rushing river that must be crossed via a handmade hanging bridge- that is what this looks like! Tukuran Hanging Bridge might seem a little bit scary to some people, but to others, this bridge represents all that is wild and free about the Philippines!
Each step will give you a little sway back and fourth, especially if other explorers are crossing at the same time. Don't be afraid, however, as this hanging bridge has been made with sound engineering.
Nearby, you'll find huts in the shallow water area where you can have a rest and dip your toes in.
Mount Halcon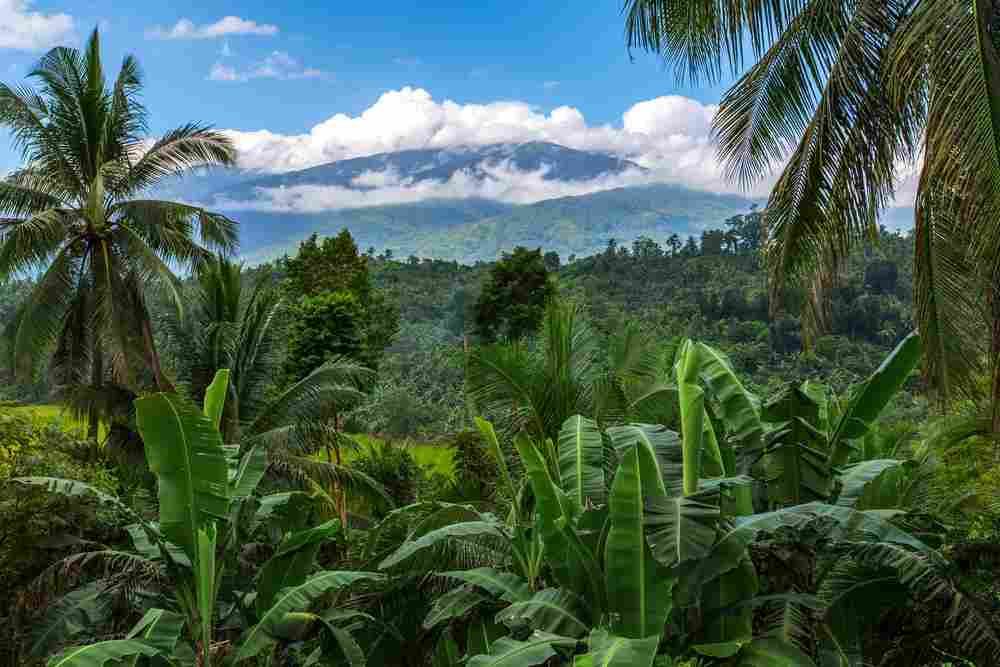 2,586 metres high, Mt. Halcon is an impressive site to be seen in Mindoro. While it may only be the 18th highest peak in the Philippines, it still offers quite a challenge for hikers and climbers. The trails are steep with rocky ridges, intense slopes, mossy forests, and pristine river crossings.
To hike this mountain, you'll need at least 4 days, a permit, and a guide. You can find tour companies in the area to set you up or do a quick search online! It will be an invigorating experience with memorable views and commendable achievements.
Tamaraw Waterfalls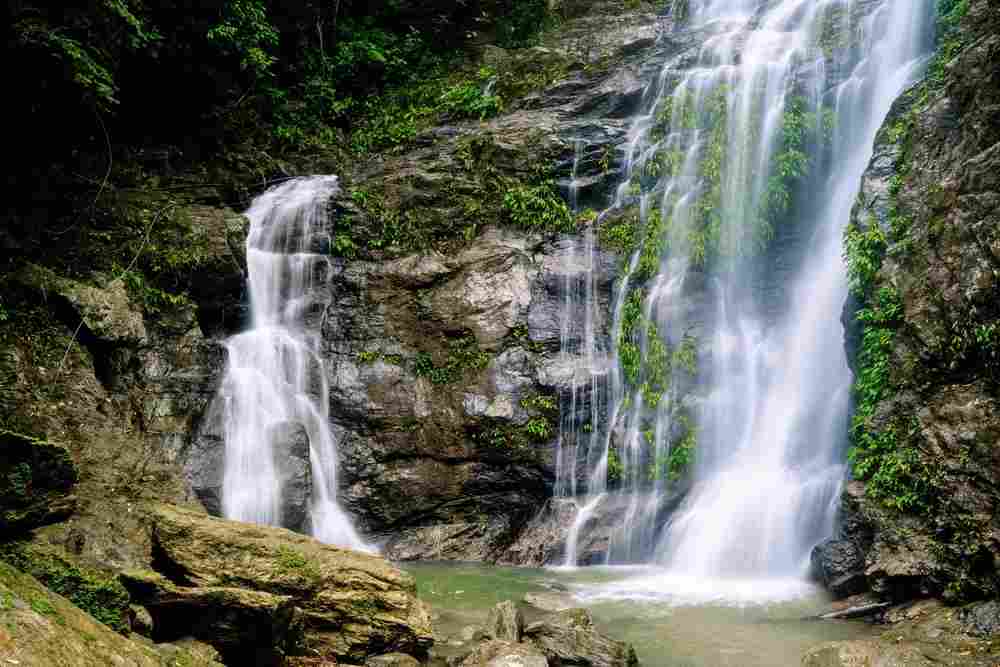 These superb falls located in the Barangay Villaflor near the city of San Teodoro of Mindoro Island are absolutely worth a visit.
Tamaraw Waterfalls are picture perfect and embody exactly what you hope a waterfall would look like. Set deep in the jungle, these falls cascade down 423 feet of rock, twisting, winding, and falling into a couple sets of cool pools. The falls come down in such a rage that the sound is beautifully overpowering.
To get there, you can take a Jeepney, hire a tricycle, rent a motorbike, or if there are enough of you, hire a private van.
Apo Reef Natural Park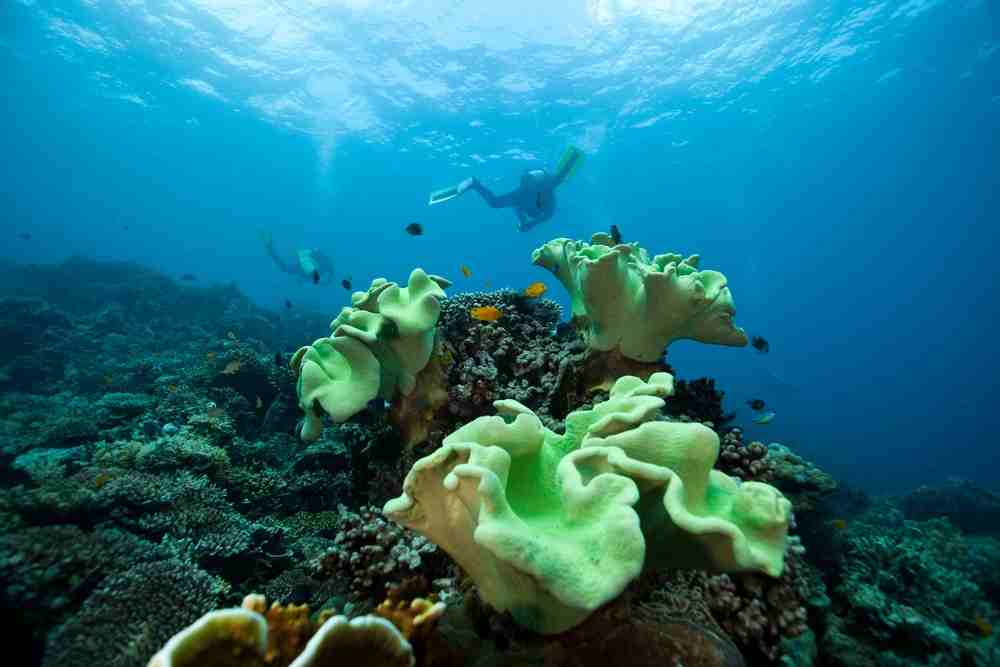 The largest coral reef system in the Philippines in located off the shores of Mindoro. This 34-square kilometer stretch of reef is protected by the government, which means no large ships coming in and out damage the coral or disturb the wildlife.
By this regard, you can imagine that Apo Reef makes for a spectacular snorkel spot and is also a beloved dive site in the country. Here you will see the most abundant collection of wildlife which, you might not see else where including the Giant Napoleon Wrasse fish, lots of sea cucumbers, a cushion star, and more. Just watch out for the Trigger Fish who like to chase you away from their nests!
Meer over Apo Reef op onze liveaboards page!
Mindanao
Mindanao, island, the second largest (after Luzon) in the Philippines, in the southern part of the archipelago, surrounded by the Bohol, Philippine, Celebes, and Sulu seas. Irregularly shaped, it measures 293 miles (471 km) north to south and 324 miles (521 km) east to west. The island is marked by peninsulas and is heavily indented by the Davao and Moro gulfs in the south and by Iligan Bay in the north. The long, semicircular Zamboanga Peninsula (west) extends southwesterly toward the Sulu Archipelago and Borneo, and the Cotabato and Surigao peninsulas extend south and north, respectively.
Rugged, faulted mountains and volcanoes occur in many areas. Mount Apo, at 9,692 feet (2,954 metres), is an active volcano in the southern part of the central highlands; it is the highest peak in the Philippines. The island has narrow coastal plains, and broad, fertile basins and extensive swamps are formed by the Mindanao and Agusan river systems. Lake Lanao (Lake Sultan Alonto), created by a lava dam, has an area of 134 square miles (347 square km). The island has a marsh-game refuge and bird sanctuary. The rare Philippine eagle is found on Mindanao.
Mindanao is a Muslim outpost in the predominantly Roman Catholic Philippines. Although Muslims are no longer a majority, Islamic culture is evident; there are many mosques, and distinctive brassware, including the kris, or dagger, is manufactured. The autonomous region of Muslim Mindanao—consisting of territory in western and southwestern Mindanao along with a number of nearby islands, including Tawi Tawi and Jolo—was established in 1990.
Siargao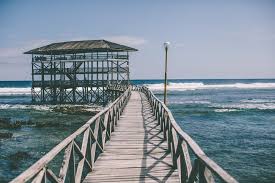 Siargao, a teardrop-shaped small island located at the northeastern coast of Mindanao, is known as the Surfing Capital of the Philippines. In 2019, Siargao was named by Conde Nast Traveler readers as the Best Island in the World.
Cloud 9, one of the surfing spots in Siargao, is the reason why this laidback island came into the radar of international travelers. For non-surfers, Siargao can also be a good destination for a much-needed island getaway.
There are white sand beaches, picturesque islands, blue-green waters perfect for snorkeling and diving, waterfalls, lagoons, and caves.
The island also boasts delicious local and international cuisine for every discerning palate. Travelers usually stay in General Luna for the surf spots, but Del Carmen is also getting more popular because of the Sugba Lagoon.
More to do in Siargao, please visit this website.
Camiguin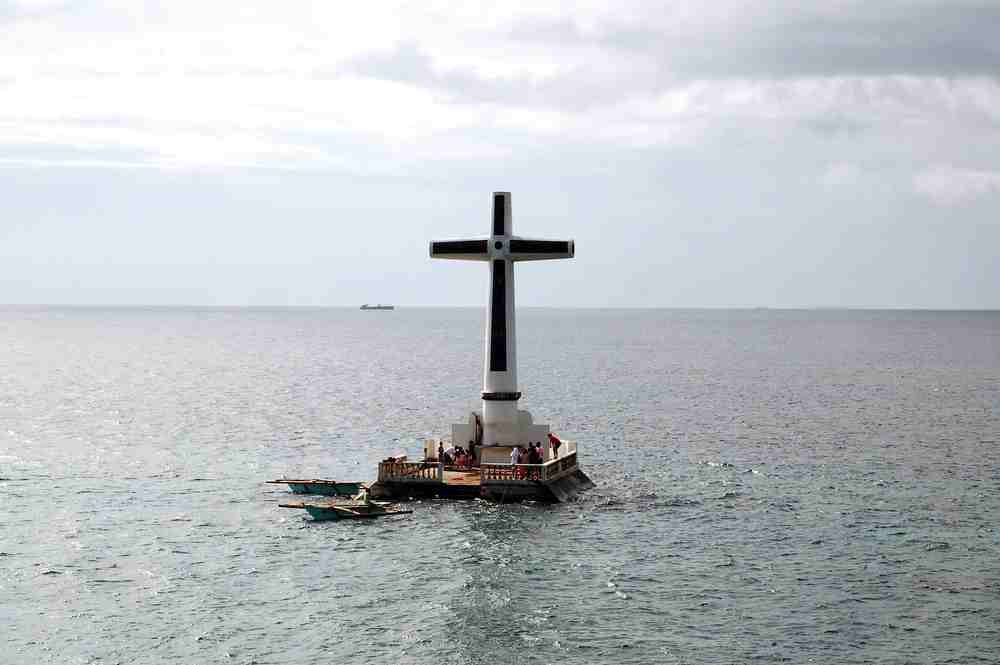 Relatively unspoiled and an ideal size for exploration, Camiguin (cah-mee-geen) is notable for its imposing silhouette – drop it down next to Hawaii or Maui and it wouldn't look out of place. With more than 20 cinder cones 100m-plus high, Camiguin has more volcanoes per square kilometre than any other island on earth. And because it's untouched by large-scale tourism and one of the more tranquil islands around – the 10km of Gingoog Bay separating the island from the mainland is partly responsible – those who do come feel proprietorial about this little jewel and guard news of its treasures like a secret. Besides the usual diving, snorkelling and sandy beaches (except for offshore ones, beaches have brown sand), Camiguin offers a chance to climb a volcano and a seeming endless supply of jungle waterfalls and hot and cold springs.
More to do in Camiguin, please visit this website.
Surigao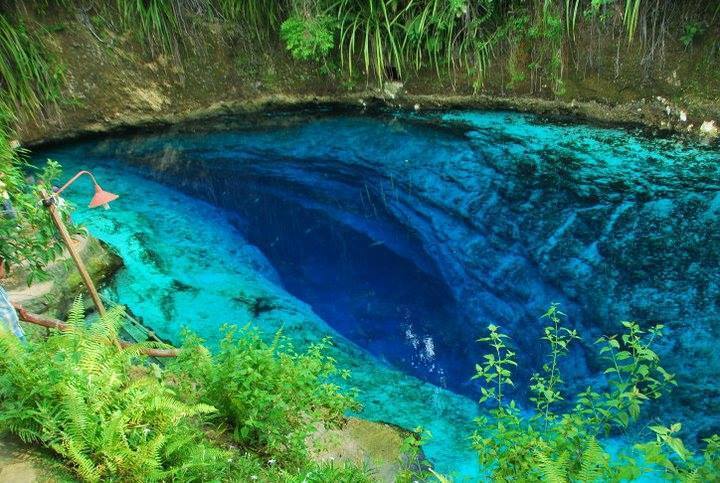 Surigao City is nestled in the north-eastern area of Mindanao. Its rich Spanish heritage and the abundance of its mineral reserves makes the province dearly treasured. In fact, because of its continuous progress and development, the city is among the most competitive small-sized cities in the Philippines. Naturally, vacationers and locals alike find it a must to visit Surigao for its famed tourist spots. For backpackers and those going solo-tripping, Surigao is all the more a worthy destination to see and most definitely to conquer. Such a trip is ideal for anyone needing some perspective because these days, spending quality me-time is important.
More to do in Surigao, please visit this website.