All you need to know about Moalboal and surroundings.
About Moalboal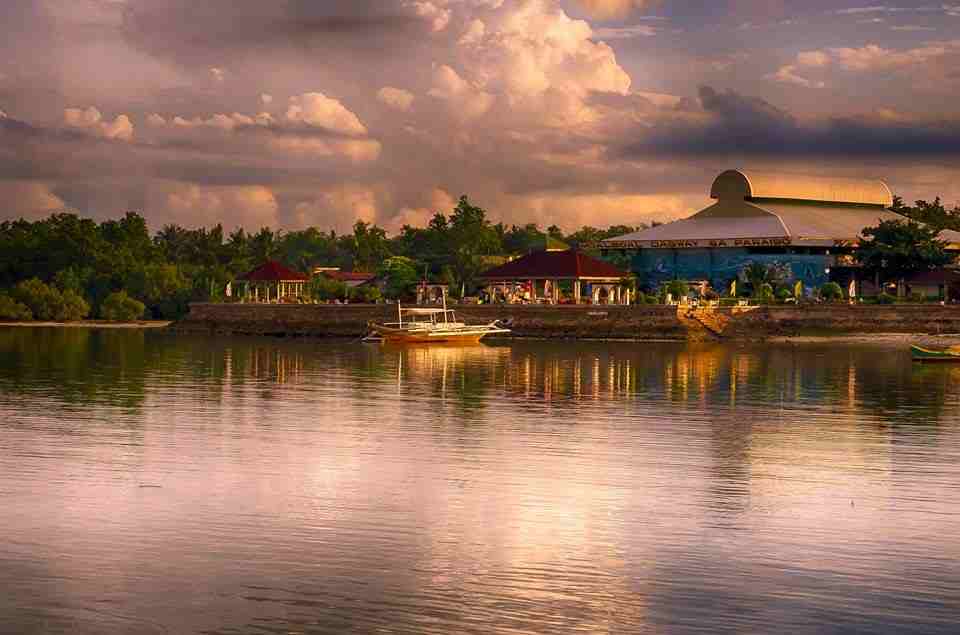 Moalboal is a small town on the South-West side of Cebu island, Philippines. It's mostly used as an entry point to Panagsama Beach, where most of the resorts, restaurants, bars and dive schools are.
At first glance it may seem like there is not much to do for a tourist in Moalboal itself, but it serves as an excellent basecamp for diving and exploring the surrounding area. The many diveshops in Panagsama beach are mixed with a lot of bars and restaurants, and you can find both luxury and budget friendly accommodation to return to after your excursions. Moalboal is mostly known for the diving its coastline's multiple reefs provide, but if you look a bit further there are many more natural wonders to explore. The mountains inland offer spectacular vistas and the area is covered by dense tropical rain forests divided by rivers and canyons.
Moalboal is divided in two parts:
Panagsama Beach
White Beach (Basdako)
In panagsama beach you find most of the restaurants, resorts and dive shops. Panagsama is also known for its nightlife, mainly in Chili bar where locals and tourist get together for food, drinks and late at night loud music. Every Saturday, Panagsama has a disco night in Pacitas Disco.
If you prefer something more quiet, better stay in White Beach (Saavedra), which is around 15 minutes drive from Panagsama Beach by tricycle.
How to get here?
The easiest way to reach Moalboal is from Cebu City. The road is in good condition, even in the second part in the mountains and is about 80 km.
By van
Most of the resorts/dive shops in Moalboal propose to hire a van from Cebu airport to Moalboal. Be ready to pay around ₱3000 for this 3 hr trip.
By taxi
Taxis can be hired at Cebu Airport for ₱3,000 (fixed rate as of January 2012). Many of the hotels and guest houses in Panagsama Beach will send a car or van for pickup for about ₱3,000.
Another option is to arrange your taxi ride in advance. There are several private operators driving legitimate taxi's.
On arrival at the new terminal, (Sept 2018) exit and turn left, before the taxis there are car hire desks with set prices of P2600. Rates seem identical which ever one you use.
By bus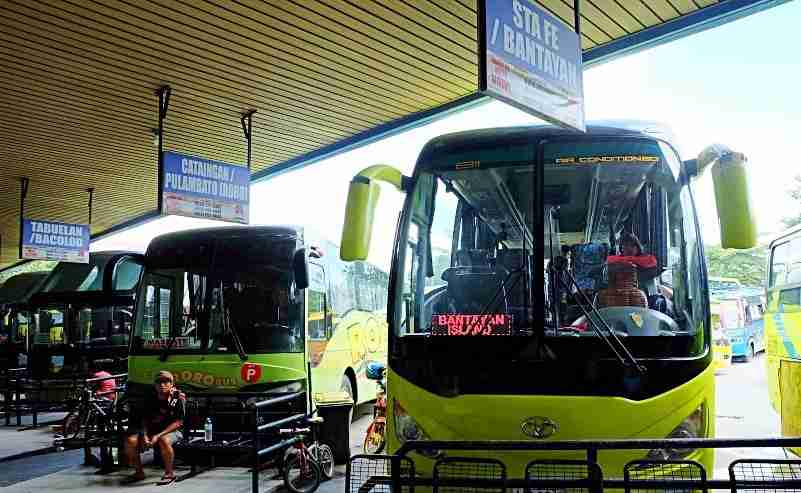 As usual, the cheapest method is a local bus (2.5 to 4 hours). From Cebu airport, take a white metered taxi and ask to go to the south bus terminal (the airport is in Mactan, quite far from Cebu city, so be ready to pay around ₱200 for this). The yellow airport taxis are more expensive - expect to pay around ₱300. Both white and yellow taxis can be found to the right of the departure entrance of the airport. If you exit the airport at arrival exit, you need to go right and walk around 50m. There will be some white cars parked in front of the arrival airport exit. They are not white taxis and they will rip you off. White and yellow taxis have a taxi sign on the roof. Talk only with taxi driver. There will be a lot of other guys around trying to sell you different tickets/options... (mar 2016)
Then take the bus here (the main company is the yellow color buses of Ceres Liner). Be sure to use an already almost full bus to avoid waiting. The no-aircon (most are like this) travel will cost you ₱115 (Aug 2018) + ₱10 of terminal fee if you don't pay directly in the bus. Air-con with free WiFi (yellow Ceres) buses are ₱180 (June 2019). The bus will drop you off in Moalboal town which is 4km from Panagsama and 9km from White beach. The tricycle ride to Panagsama should cost less than ₱30 per person (locals pay ₱7), but expect that driver will ask 200 pesos at first...
Other options
Coming from Dumaguete, it is possible to take the ferry boat between Sibulan (ca ₱100 by tricycle from the city center, or P10 in a jeepney) and cross to Lilo-An on Cebu island. There, take another tricycle (around ₱50) to the nearby bus station in Bato (San Sebastian). Another option from Dumaguete is taking a jeepney to Tampi (take a jeepney going to Amlan, P20), and there a RORO ferry directly to Bato for P70. Ceres buses headed for Cebu City stop there regularly, and some of them go via Moalboal (ask the driver). The bus fare is ₱70 (non aircon, Nov 2015).
Get around
The easiest way to get around the town is to use tricycles, though if you are comfortable driving on rough roads, then you should strongly consider renting a motorbike. From Moalboal to Panagsama Beach, the usual fare is ₱150 (September 2017), drivers will start at ₱150 but will go down to ₱100 if you auction the ride with all the drivers around. Don't pay more than ₱200. At night the rate is about ₱200 as it is off peak hours already. To White beach most people were paying between ₱150-₱300 in Sept 2017, depending on nday vs nighttime. If you don't have much luggage, another cheap way to get around is by "habal habal", basically riding on the back of a motorbike. Moalboal to Panagsama by habal habal is around ₱30-50. You can also take the shared tricycles that go back and forth between Moalboal and Panagsama for about ₱30.
If you are staying for a bit longer, it's a good idea to rent a motorbike. A Semi automatic motorcycle Honda XRM 125cc for ₱400 per day or automatic scooter at ₱500 per day. They do have weekly packages which is relatively cheaper than per day basis (5 days 1500P)
Where to stay?
As of today (2021), Moalboal has a lot of accommadations to offer. In Panagsama Beach, as well as in White Beach, there is a large choice of resorts (all price ranges), bamboo native huts or backpacker places.
If you like to have some nightlife, better stay in or around Panagsama so you can save on transportation. All resorts in White Beach offer food, but it might be quite a walk to go out and find something else for dinner.
We have a large network of resorts (with our without swimming pool), hotels, backpacker places etc. in our portfolio, covering every price range (from 200 euros a night till 7 euros a night). Please inquire here for advice and reservations.
Scuba diving in Moalboal
Moalboal has always been a hotspot for scuba divers! Only recently it was discovered by backpackers, mostly looking for cheap accommodation and fun.
Both Panagsama Beach as White beach have numerous dive shops. In White Beach, you find most of them attached to a resort, while in Panagsama you have as well dive shops working independently or together with a resort. Most of dive shops issue PADI licenses, but it is also possible to find SSI, CMAS or SDI.
Dive sites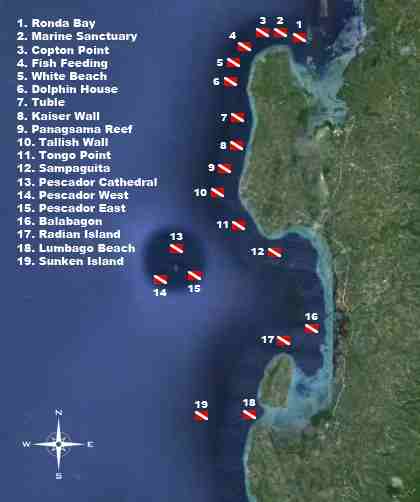 Here you can see al the dive sites Moalboal has to offer. We have dive sites suitable for beginners, as well as more advanced dive sites. Most diving in Moalboal is wall diving. The wall starts close from the shore at usually a depth of 5 meters, going down to 60-80 meters. The most beautiful parts of the wall are the more shallower ones, since there is still a sunlight so corals can grow. Also most of turtles are seen in these areas.
Dive site number 9 is a bit special, since here we see the sardine bowl where Moalboal is famous for. Very often you see schools of tuna and jackfish hunting the sardines. If you are really lucky, you can even spot the tresher shark! You can reach this divesite also by the shore and just snorkel there.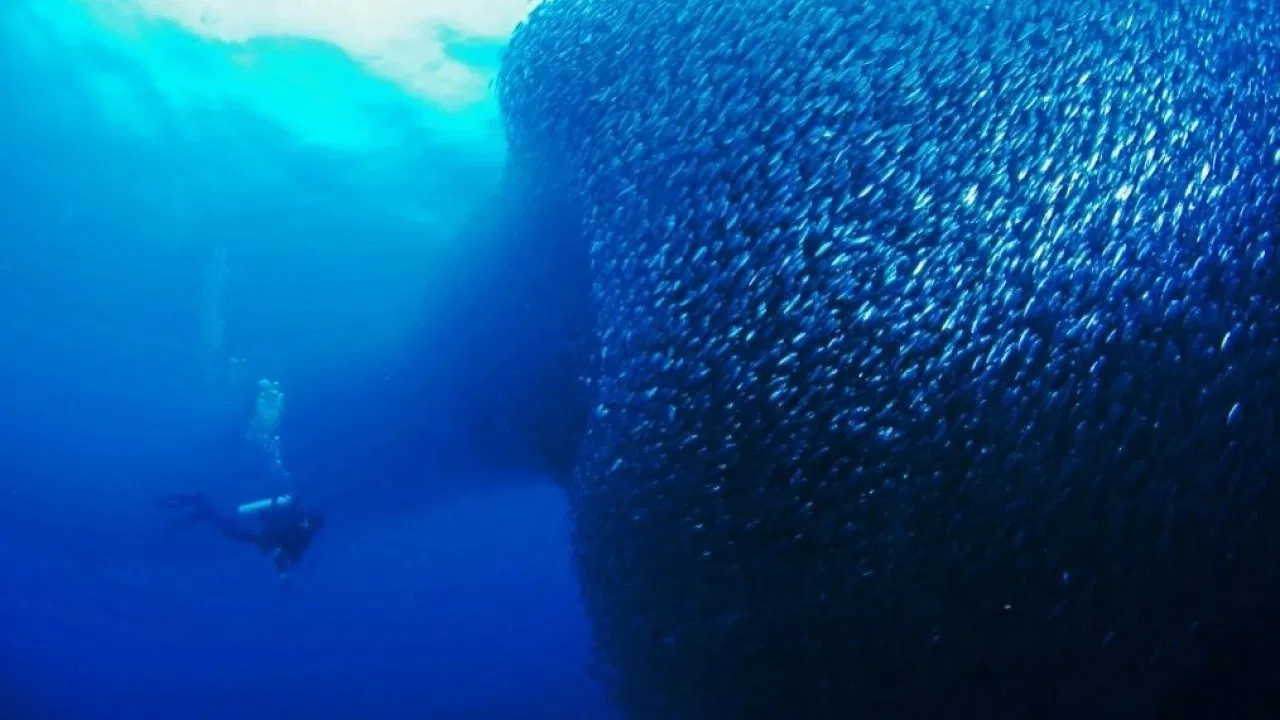 Also sites numbers 13, 14 and 15, Pescador Island, are amazing dive spots because of their untouched corals!
Under here we see an underwater map from Tanon Strait. Image by BlueNomads.org .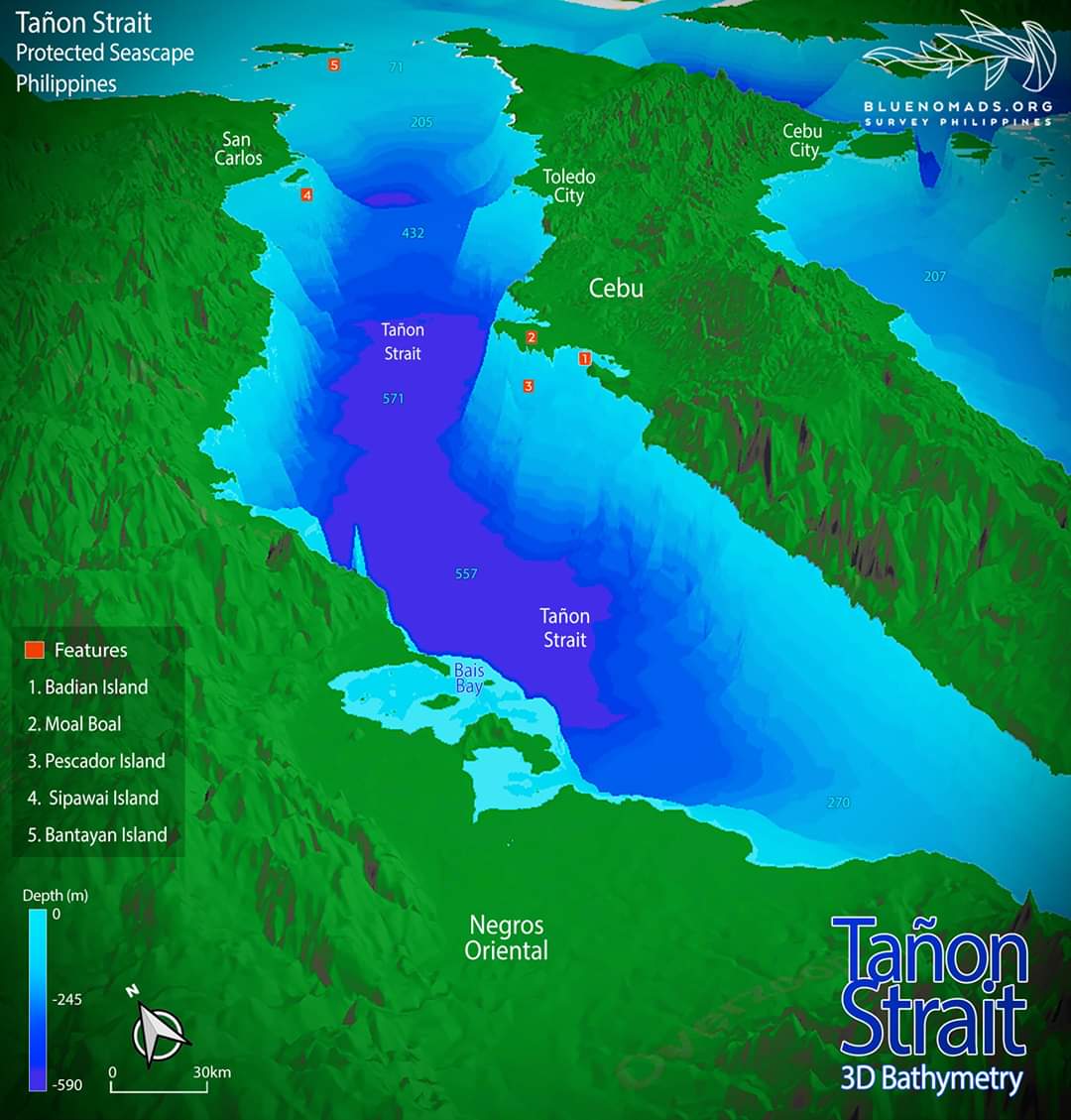 Dive Courses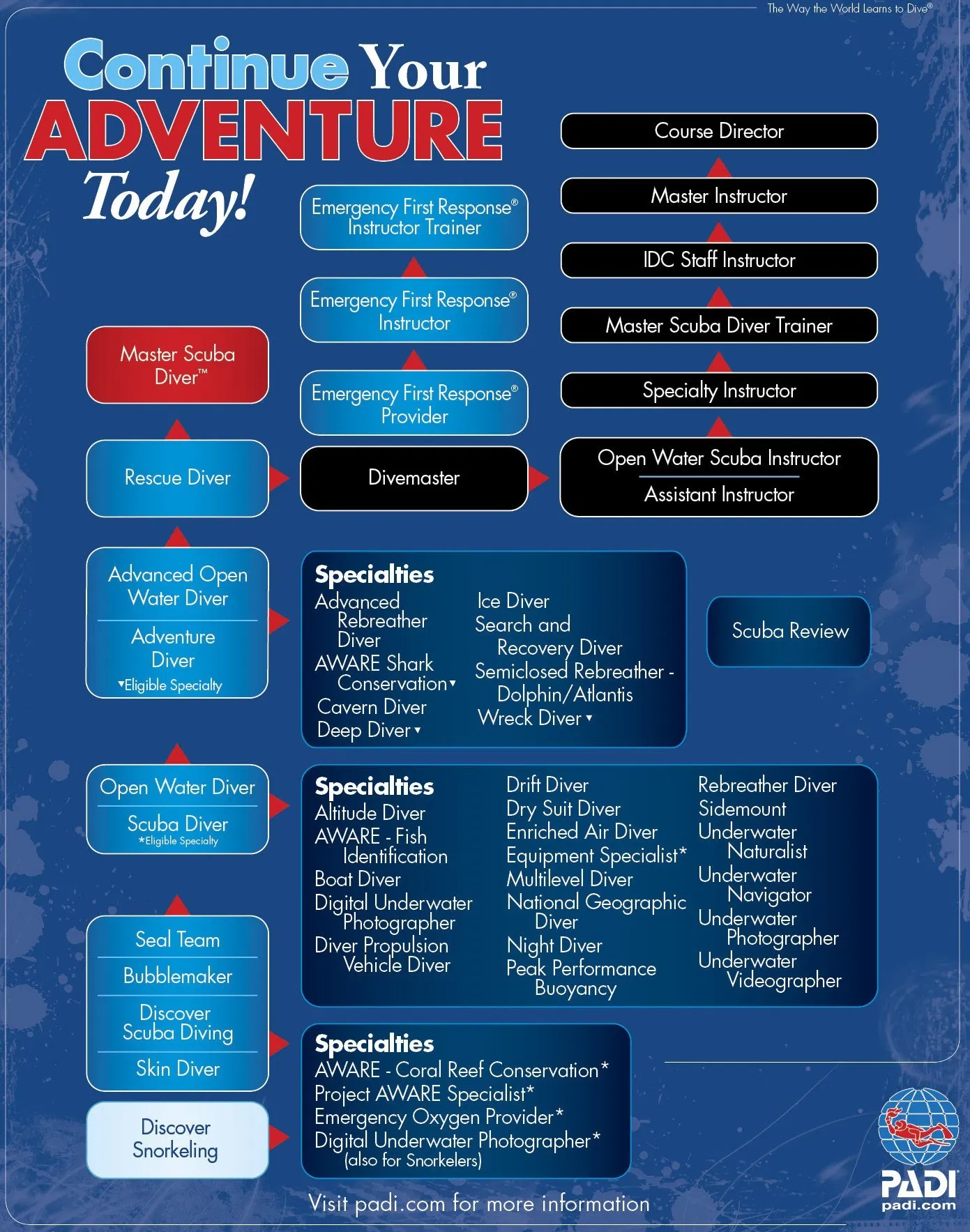 If you don't have any experience in scuba diving and you want to try, we can offer you a dive course. We offer all PADI standard dive courses up till the level of Divemaster, and this at very competitive prices. If you have a license from a different fedration than PADI, you can still join our fun diving. If you want to get a higher level, we can scale you in acoording to PADI standards. Following courses we offer:
DSD - Discover Scuba Dive DSD app / DSD web
(Junior) Open Water Diver
Advanced Open Water Diver
Rescue DIver
Divemaster
We also offer following specialties:
Nitrox diver
Deep Diver
Underwater Photography
Wreck Diver
Peak Peformance Buoyancy course
Night Diver
The typical beginner course is Padi Open Water Diver. Here we will learn you the basic techniques in 5 confined water session (pool or pool-like conditions). Course includes also a minimum of 4 real open water dives, where we will practise what we learned in the pool and gain more experience and confidence. At least 2 dives will be by boat. There is also a theory part, which you can study already at home if you want.