Tourism in the Philippines
General Information
The Philippines is made up of 7,107 islands covering a land area of 115,739 sq. m. (299,764 sq. km.) and a coastline of 34,000 km, the longest in the world. The main island groups are Luzon, Visayas, and Mindanao. The capital is Manila. Time Zone is GMT + 8 hours.
The land consists of coastal plains with many central peaks and mountain ranges. Mount Apo in Mindanao is the tallest in the country, rising 9,600 feet. Volcanoes dot the country. And one of these – Mayon Volcano in the Bicol region – is considered to have the most perfect cone.
Manila is the seat of administration and the center of commerce and industry, culture, the arts, and education. It is the largest and most important city in the Philippines. It is also one of the loveliest and most exciting cities in Asia. The city of Manila has been combined with other major cities and municipalities to form what is now popularly known as Metro Manila, which has a total area of 60 sq. km.
Population
There are a total of 106.6 million Filipinos as of the latest national census in 2018. Population growth is estimated at 2.04 percent annually. Luzon, the largest island group, accounts for almost half of the entire population.
Languages
Two official languages --- Filipino and English. Filipino which is based on Tagalog, is the national language. English is also widely used and is the medium of instruction in higher education.
Eight (8) major dialects spoken by majority of the Filipinos: Tagalog, Cebuano, Ilocano, Hiligaynon or Ilonggo, Bicol, Waray, Pampango, and Pangasinense.
Like any living language, Filipino is in a process of development through loans from Philippine languages and non-native languages for various situations, among speakers of different social backgrounds, and for topics for conversation and scholarly discourse. There are about 76 to 78 major language groups, with more than 500 dialects.
Climate
November to February are the coolest months and a good time to visit the Philippines as far as the weather is concerned. Meanwhile March to May are the summer months in the country and are classified as hot and dry. The rainy season is between June to October. The average temperature range is between 25°C to 30°C in Manila and 15°C to 26°C in Baguio; average humidity is 77%. Some parts of the country such as Cebu in the Visayas and Davao in Mindanao are warm and comfortable in all seasons and can be visited throughout the year.
Unit of measure
The Metric System is used in most trade and legal transactions.
Electricity
220 volts a/c is the common standard. 110 volts a/c is also used, especially in major hotels.
Currency
The currency in the Philippines is the Peso (PhP) and the Centavo. 100 centavos = P1. Coin denominations are: 1, 5, 10, and 25 centavos, P1, and P5. Bill denominations are : 10, 20, 50, 100, 500 and 1, 000 pesos.
Foreign currency may be exchanged at your hotel, and in most of the large department stores, banks and authorized money changing shops. Exchanging money anywhere else is illegal and the laws are strictly enforced.
Most large stores, restaurants, hotels and resorts accept major credit cards including American Express , Visas and MasterCard. Traveller' s checks preferably American Express are accepted at hotels and large department stores. Personal checks drawn on foreign banks are generally not accepted.
Business Hours
Most businesses are open from 8:00 AM to 5:00 PM weekdays and 8:00 AM till noon Saturdays. Banks are open from 9:00 AM till 3:00 PM Mondays through Fridays. When banking in the Philippines, it is advisable to have your passport with you for identification. The post offices are open from 9:00 AM to 5:00 PM weekdays only. Stamps for postcards are frequently available from the Concierge Desk at most major hotels. The Philippines uses ZIP codes, please include them in addressing local mail.
NOTE: The Standard lunch hour is noon to 1:00 PM. Most businesses and government offices are closed.
Clothing
People in the Philippines dress for the weather. Casual attire during the day for women are light blouses and shorts. For men collared T- shirts worn over slacks. In the evening skirts are substituted for shorts and the T-shirts are tucked in.
Religions
Some 83% of Filipinos are Catholic. About 5% are Moslem. The rest are made up of smaller Christian denominations and Buddhist.
Nature / Beaches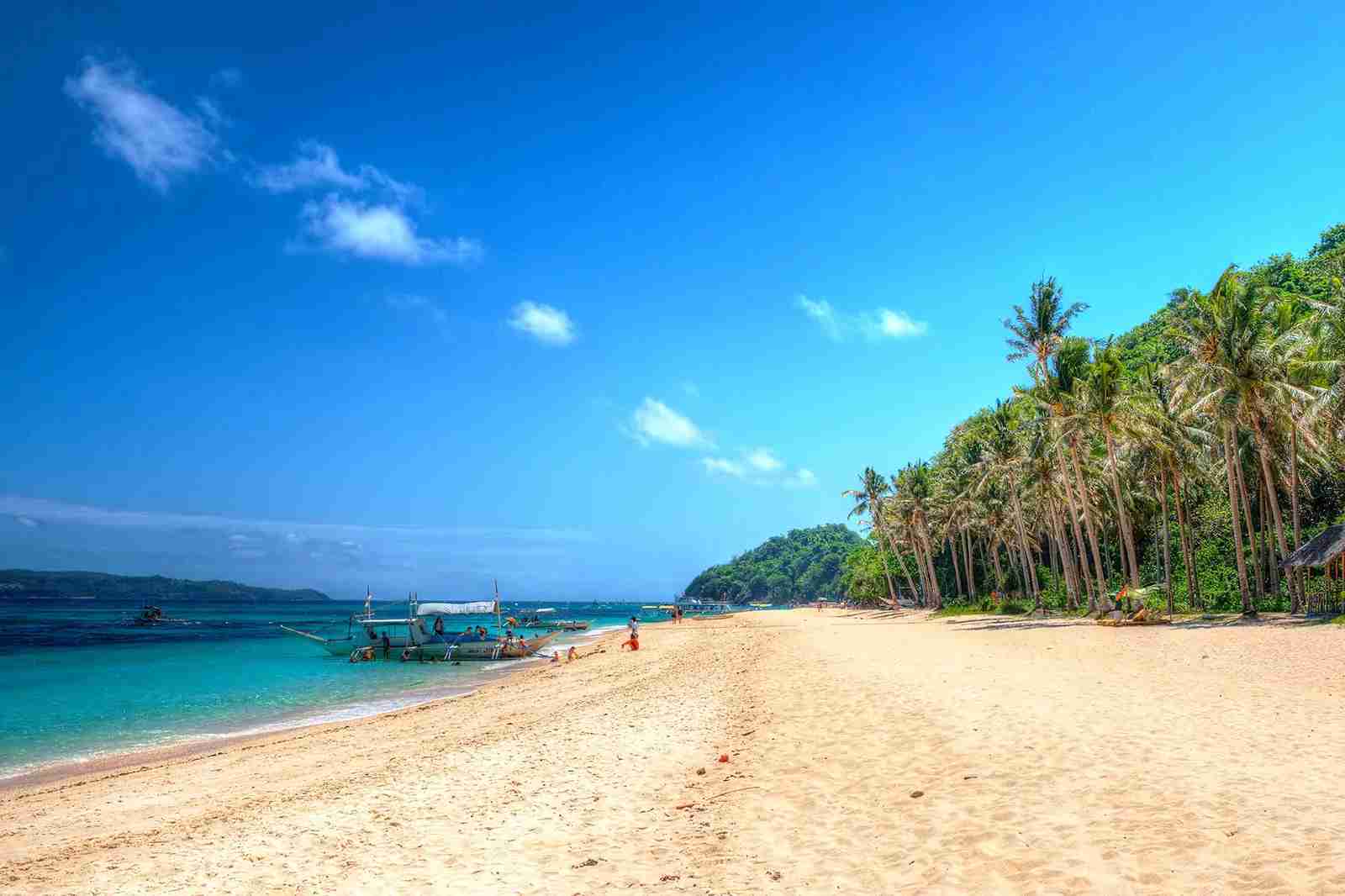 Once you get out of the busy city, enjoy the fabulous nature Philippines has to offer! From white sand beaches with pristine water, to caves, waterfalls, rice terraces, tropical forrests etc. Not even mentioning the amazing underwater world, with corals, amazing wildlife like sharks, whaleshark, nudibraches etc. More on other pages of this website!
Food
Filipino cuisine has recently been tagged as the 'next big thing' to look out for in the culinary world. With the country's variety of influences throughout its rich history, its traditional cooking techniques, and the Filipinos' knack for combining flavours and making the most of any and all ingredients at their disposal, what results is unpretentious, no-frills food that's simply delicious.
Next we give some examples:
Adobo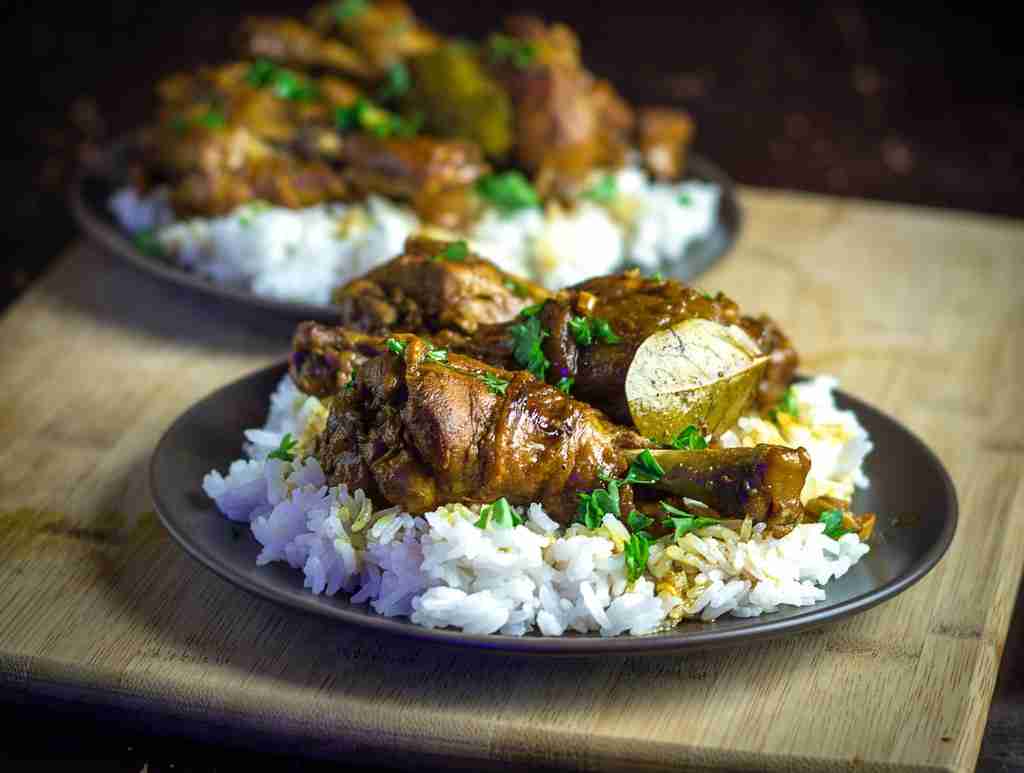 It's the Filipino dish everybody knows — the mighty adobo. It is made by stewing meat (usually chicken, pork, or a combination of both) in soy sauce and vinegar, adding peppercorns and bay leaves for that special flavour. Bonus leftovers. Tip: pull the meat from the bone and fry 'til crispy for some tasty adobo flakes.
Lechon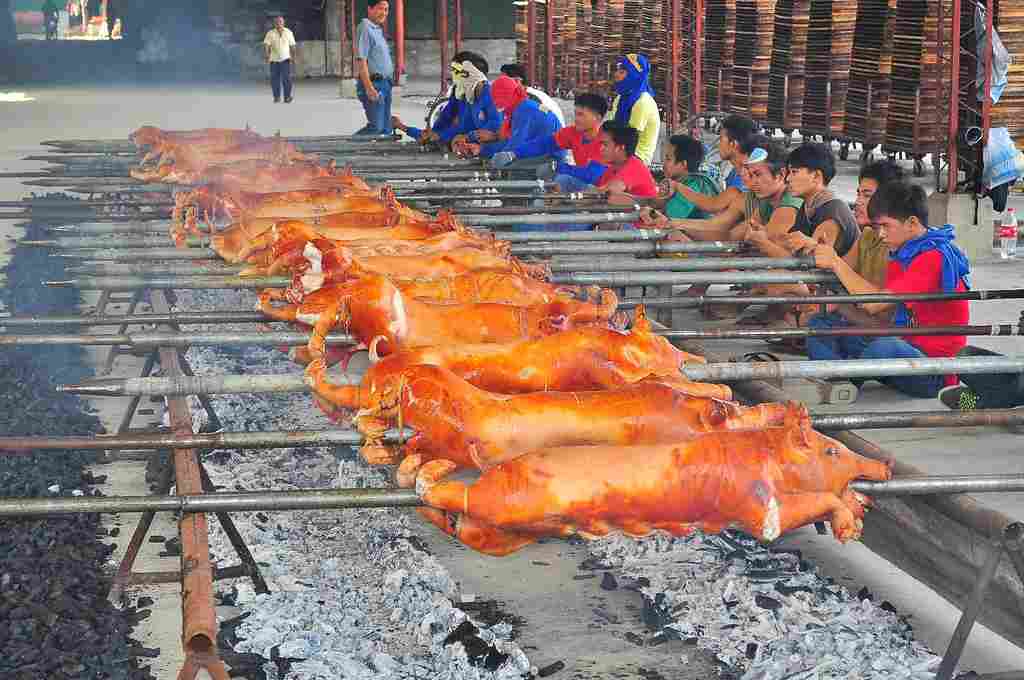 One of the top contenders among the best Filipino dishes (alongside adobo) is perhaps the famous lechon. After all, it is hard to top a tasty, fully-roasted pig with perfectly crisp skin and juicy meat. Find the best of this sinful treat on the island of Cebu, but this is almost always served at any grand Pinoy gathering or fiesta.
Sinigang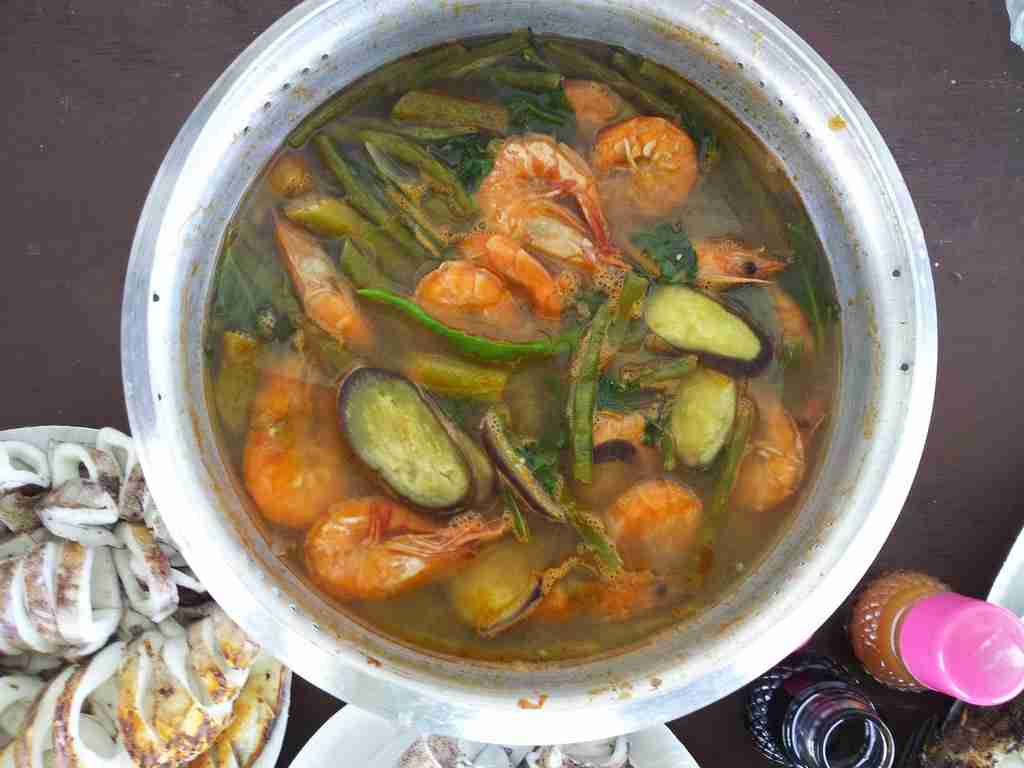 Sinigang is a Pinoy classic. A delicious sour broth usually made tangy by tamarind (sometimes kamias), it's filled with different vegetables and a meat of choice. Popular variants include sinigang na baboy (pork), sinigang na hipon (shrimp), and sinigang na isda (fish).
Crispy Pata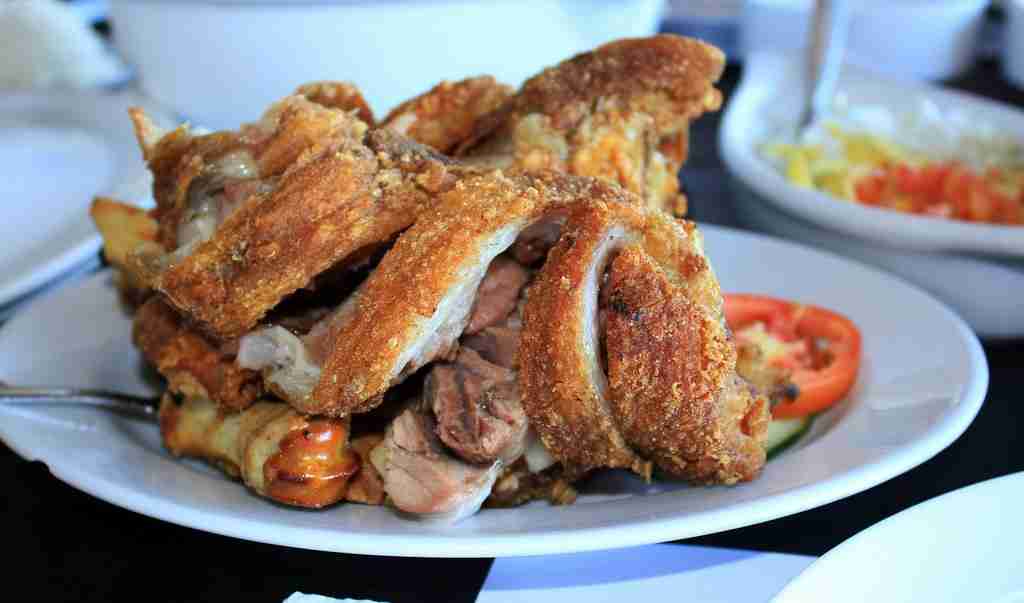 If you can't get your hands on an entire lechon, a scrumptious crispy pata is an equally sinful alternative. It's a dish that takes the entire pig leg and deep fries it to perfection. Serve with a soy-vinegar dipping sauce on the side with some chopped up garlic and chilli, and you're on the road to your next favourite guilty pleasure.
Sisig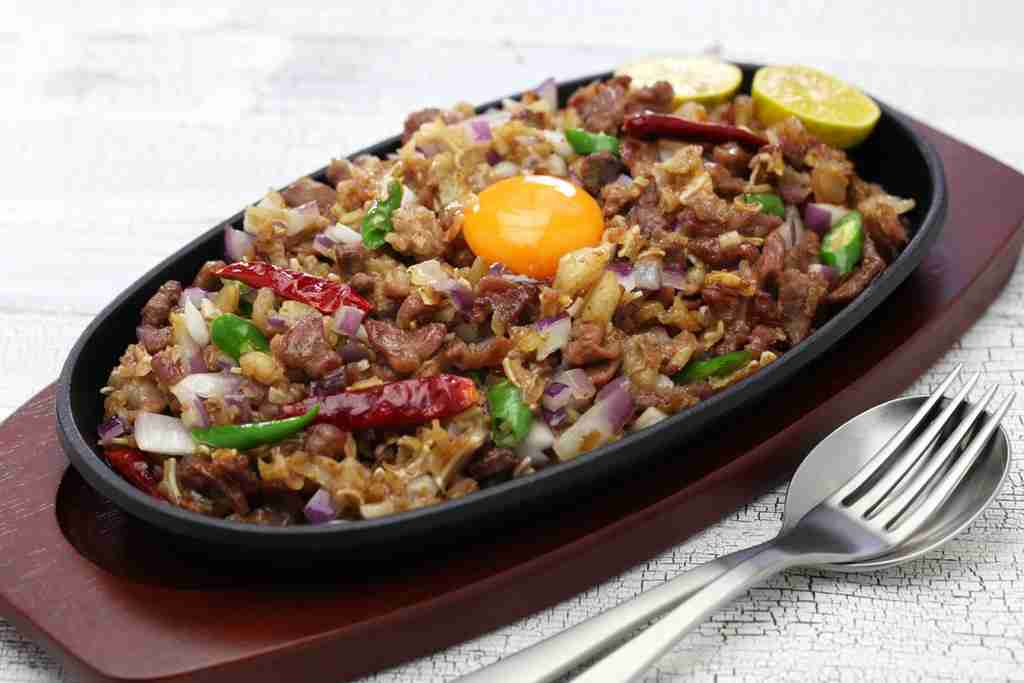 Served sizzling on a hot stone plate, sisig is a favorite pulutan (beer chow) among Filipinos. The meat is primarily chopped up parts of the pigs' face — in the Philippines, no cut of the animal goes to waste. Some recipes use either mayonnaise or raw egg (to be mixed in while hot) to give it a creamier texture but the classic way is to incorporate pig's brain into the dish.
Pancit Guisado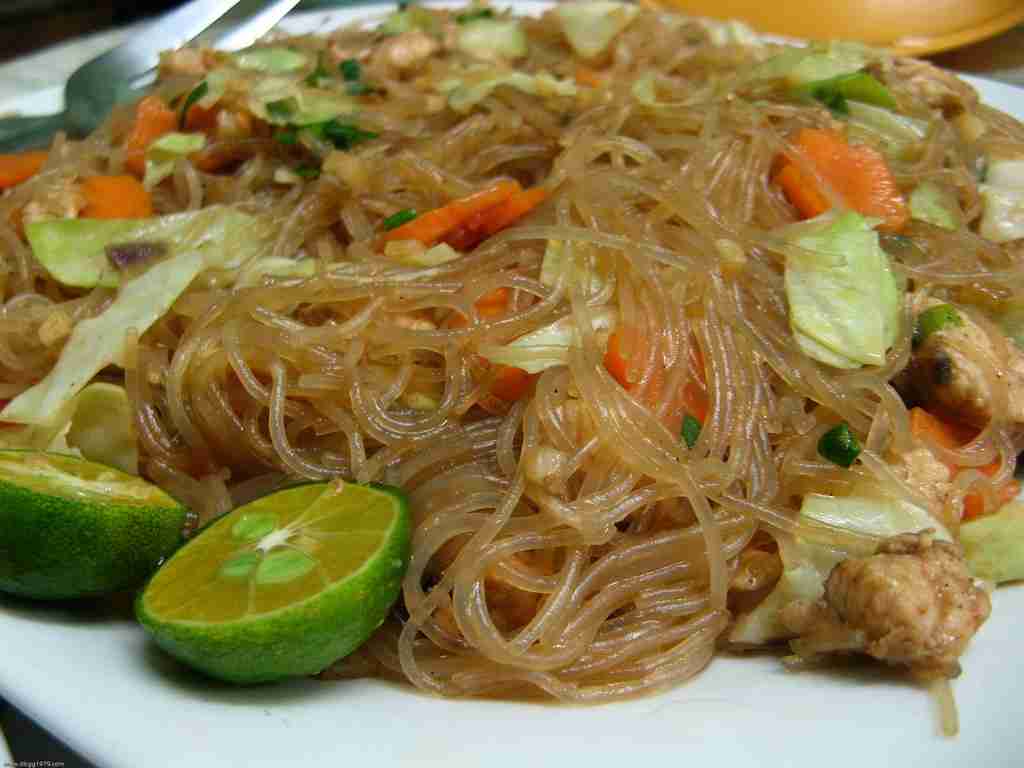 One of the more popular Filipino dishes among foreigners with Pinoy friends (due to its customary presence in Filipino birthday parties) is pancit (noodles), of which pancit guisado is perhaps the most well-known variant. This noodle dish is served as a symbol for long life, hence an essential at birthday feasts. The sautéed noodles are complemented by sliced vegetables and meat (all cooked in broth, soy sauce, and fish sauce) and kalamansi is squeezed over upon serving.
Pork BBQ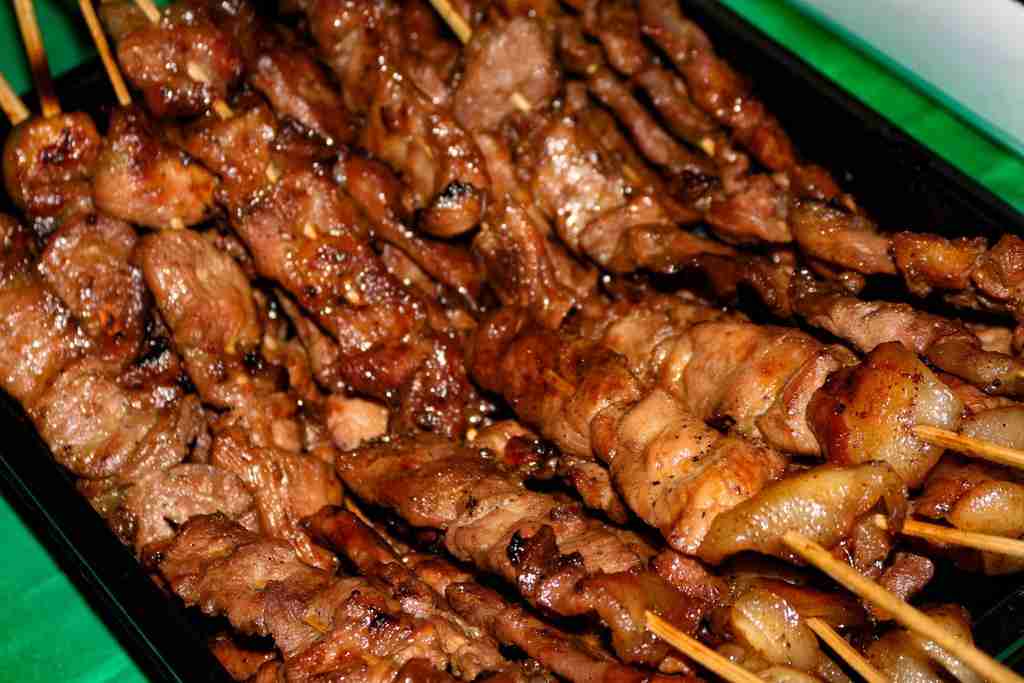 A merienda (snack in between meals) favourite in the Philippines is Pinoy pork barbecue. While this skewered sweet meat goes wonderfully well with the ubiquitous plain rice during meals, there's also nothing like catching yourself hungry in the middle of the afternoon and conveniently walking down the street over to the vendors grilling them road-side for only PHP15 ($0.30) a stick.
Bistek Tagalog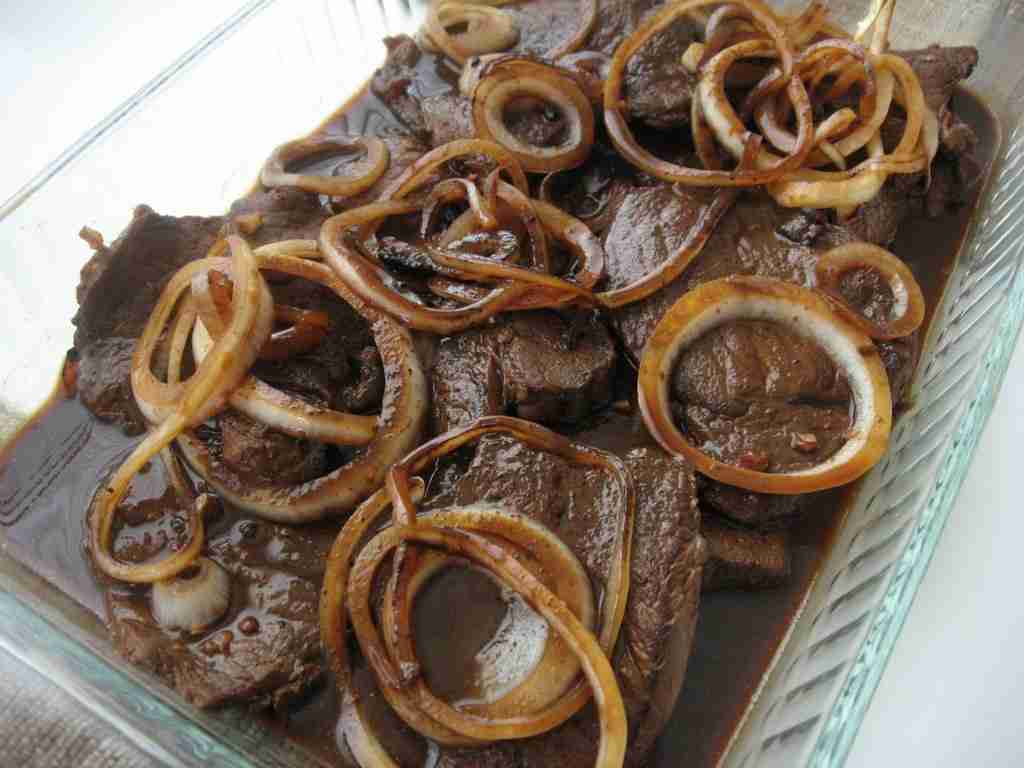 Bistek Tagalog or the Filipino beef steak is a delicious blend of salty, sour, and sweet flavours. Thinly sliced beef is marinated in a mixture of mainly soy sauce and kalamansi, fried, and then topped with caramelised onions. The onions are just sweet enough to cut into and balance the strong salty and acidic tastes infused into the meat.
Beef caldereta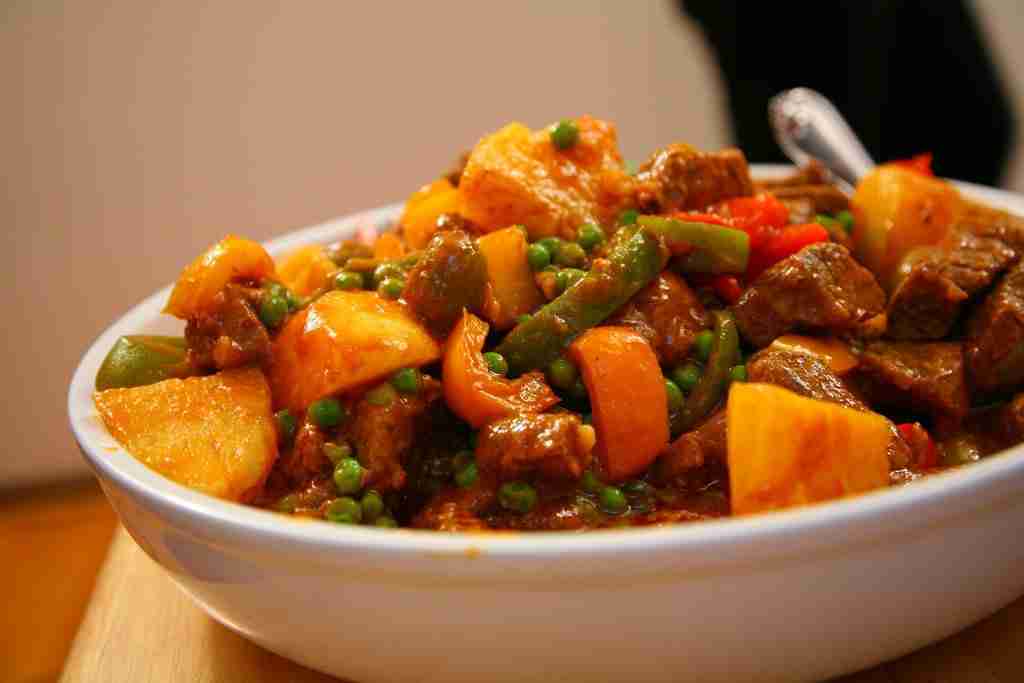 Kaldereta is a Filipino beef stew made extra rich and tasty by tomato sauce and liver paste. Goat meat can also be used in place of beef and mixed in is a merrymaking of vegetables, which typically include carrots, bell peppers, and potatoes.
Chicken Inasal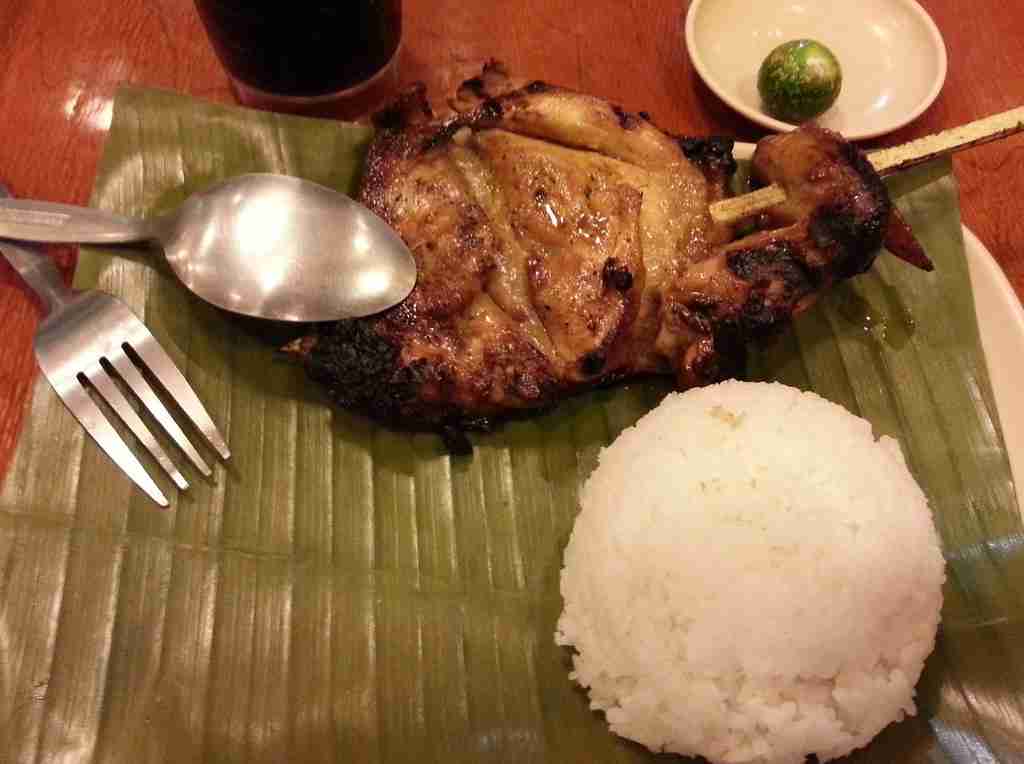 This flavourful grilled chicken, the best of which is made in the city of Bacolod, sits in a special marinade of vinegar, kalamansi, ginger, and lemongrass. It owes its appetising golden-brown colour to annatto oil, which is also poured over the plain rice it is served with. Dip the chicken in sinamak (spiced vinegar) for some extra zest.
Lechon Kawali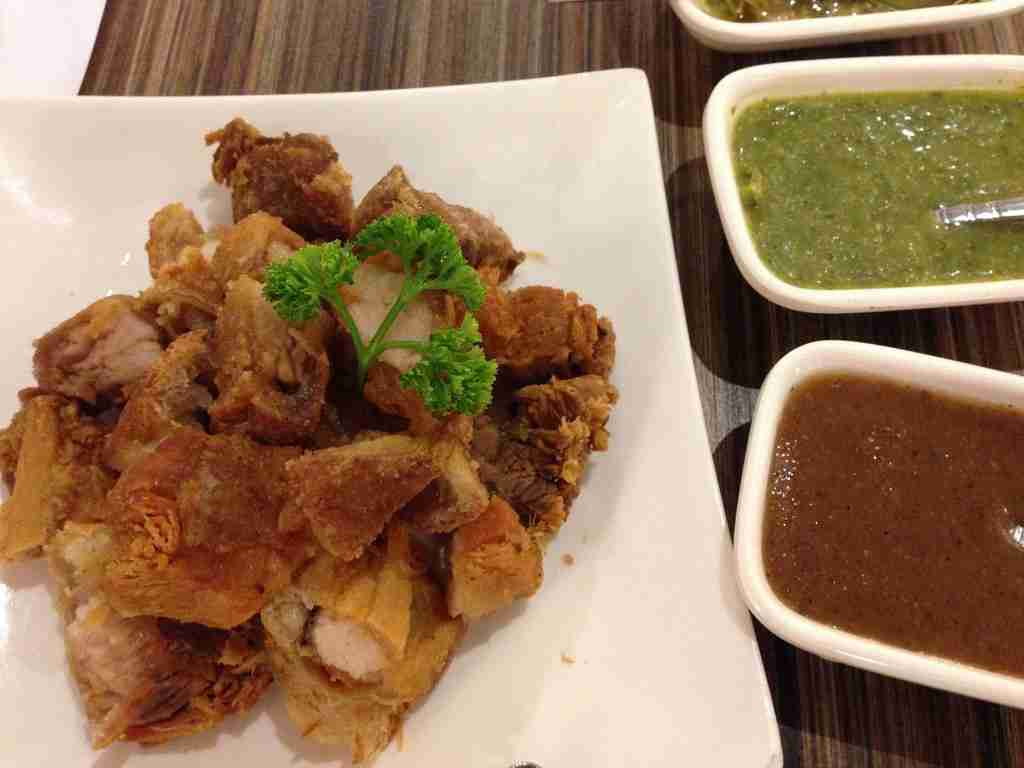 Though not everybody has access to a backyard and a space to charcoal roast an entire pig, there's still a way to enjoy the guilt-inducing goodness of lechon — by cooking it in a kawali (wok). Pork belly is cooked in boiling water (usually with bay leaves, peppercorn, and salt) until tender, air-dried, given a salt rub, and deep fried until golden brown. The aim is perfect crackling skin and tender meat. Enjoy with lechon gravy or spiced vinegar.
Lumpia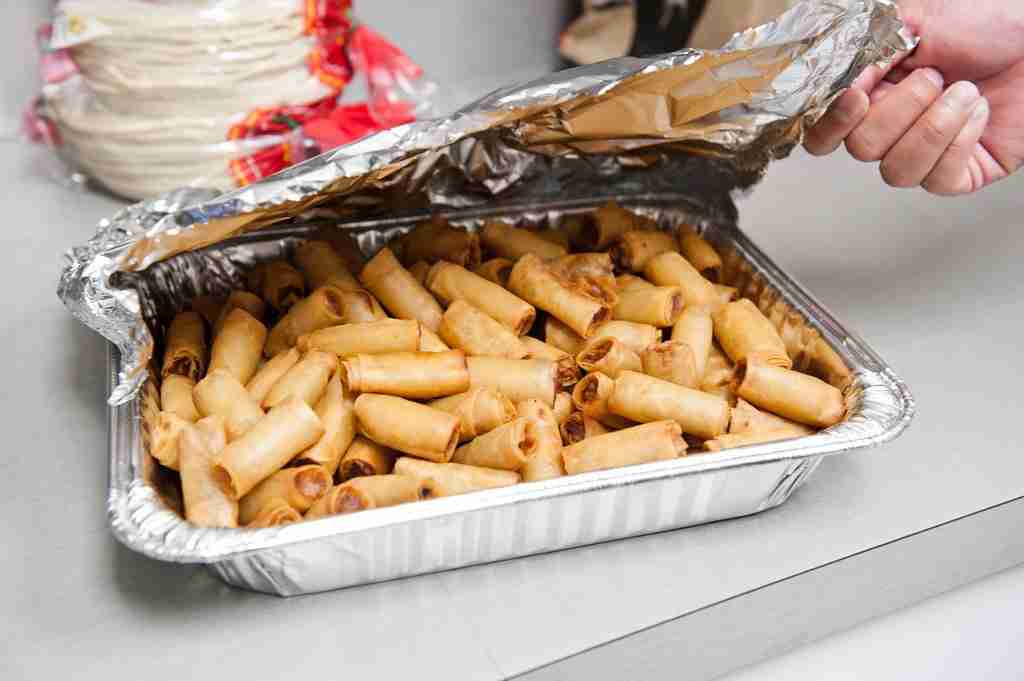 Another dish frequently expected to make an appearance at Filipino gatherings is the Pinoy's version of the egg roll, lumpia. These deep-fried rolls are filled with minced meat and vegetables and served with a sweet and sour dipping sauce. Being so easy to make, lumpia is almost automatically part of a Filipino feast when food for the large Filipino family has to be cooked in copious amounts.
Nightlife
If you come to Philippines to experience the brilliant night life, you probably have to head to some of the major cities, like Manila (Makati, Ermita), Angeles or Subic Bay in the region of Luzon. In the Visayas, you have Cebu City as main city on Cebu Island, Dumaguete and Bacolod on Negros Island, Tagbilaran and Alona Beach on Bohol island, Puerto Galera on Mindoro and Davao on Mindanao.
Most of nightlife out of the cities is located around tourist hotspots, as for instance Boracay, Moalboal etc. Here you can experience the beauty of Philippine nature (beaches, forrests etc.) as well as have a great nightlife!
As most of this website considers traveling the Philippines, we do not go into all the details of Filipino nightlife. If you are planning to book a holiday here through us and you are specifically interested in nightlife, please do not hesitate to contact us.
How to get here?
By airplane, of course!
There are numerous flights from all continents to Asian hubs, like Kuala Lumpur (Malaysia), Hong-Kong, Singapore, Incheon (South-Korea), Bangkok (Thailand), Taipei (Taiwan). From these hubs there are numerous (even low cost) airlines flying to Manila and Clark (Luzon area), Cebu City and Tagbilaran (Visayas).
At the moment of writing there is a straight connection by PAL (Philippine Airlines) between London Heathrow (LHR) and Manila (NAIA).
If you need any assistance booking your flight, please contact us if you booked your travel with us.
How to travel around here?
The large number of budget flights and ferry services between major destinations makes it easy to cover the Philippine archipelago, even on a tight budget, though the main drawback is that everything routes through Manila and Cebu. Long-distance road transport largely comprises buses and jeepneys – the utilitarian passenger vehicles modelled on American World War II jeeps. Throughout the provinces, and in some areas of cities, tricycles – motorbikes with steel sidecars – are commonly used for short journeys.
Airlines and major bus and ferry companies operate to timetables and have published fares, but for smaller ferries, jeepneys and tricycles, it's often a question of asking other passengers how much to pay in order to avoid being surcharged as a tourist.
Note that holiday weekends are bad times to travel, with buses full and roads jammed – cities start to empty on Friday afternoon and the exodus continues into the night, with a mass return on Sunday evening and Monday morning. Travelling is a particular hassle at Christmas, New Year and Easter with buses and ferries full (sometimes illegally overloaded), airports chaotic and resorts charging more than usual. Almost everyone seems to be on the move at these times of year, particularly heading out of big cities to the provinces, and the transport system can become strained. If you have to travel at these times, book tickets in advance or turn up at bus stations and ferry piers early and be prepared to wait.
By air
Air travel is a godsend for island-hoppers in the Philippines, with a number of airlines linking Manila with most of the country's major destinations; you will usually, however, have to backtrack to a major hub when jumping from one region to another. Philippine Airlines (PAL; www.philippineairlines.com) has a comprehensive domestic schedule, while one of the newer airlines, Cebu Pacific (www.cebupacificair.com), offer even more routes and very cheap fares, particularly if you book some way in advance. There are two good smaller airlines – Zest Air (www.zestair.com.ph) and Seair – serving a number of popular routes. Zest Air's network includes Cebu City, Masbate, Virac, Busuanga and Tacloban. Seair flies from Manila to, among other places, Clark, Caticlan (for Boracay), Batanes and Tablas. Cebu Pacific runs numerous flights out of its hub in Cebu City, saving you the effort of backtracking to Manila – you can, for instance, fly straight from Cebu City to Caticlan (for Boracay) and Siargao. Davao is a lesser developed third hub, with connections to Cebu City, Cagayan de Oro, Iloilo and Zamboanga, but even here you'll have to transfer in Manila and Cebu for other destinations.
By ferry
Ferries and bangkas – wooden outrigger boats – were once the bread and butter of Philippine travel. Though still important, especially in the Visayas (where there's hardly a coastal barrio that doesn't have some sort of ferry service), most of the longer routes have been made redundant by the growth of budget air travel. Not only are flights faster and as cheap (or cheaper) than cabins on longer ferry routes (Manila to Mindanao for example), they are invariably safer. Indeed, despite some improvements in recent years, ferry accidents remain common in the Philippines and even in the dry season the open ocean can get surprisingly rough. The smaller bangkas are often poorly equipped, with little shelter from the elements, while even many of the larger vessels have been bought secondhand from Japan or Europe and are well past their prime. Ferries of all sizes are frequently crowded.
Having said that, for many shorter inter-island trips ferries remain the only form of transport available, and especially in the Visayas, island-hopping by boat can be an enjoyable and rewarding part of your trip.
Ferry companies
There's a hierarchy of vessels, with proper ferries at the top; so-called big bangkas, taking around fifty passengers, in the middle; and ordinary bangkas at the bottom. A number of large ferry lines operate large ships between major ports in the Philippines. They are: SuperFerry (www.superferryphilippines.com), Cebu Ferries (www.cebuferries.com), Supercat (part of SuperFerry; www.supercat.com.ph), Cokaliong (www.cokaliongshipping.com) and TransAsia (www.transasiashipping.com). These companies have regular sailings on routes between Manila and major cities throughout the Visayas and Mindanao, or on secondary routes within the Visayas. Most post schedules and fares on their websites. On less popular routes you might have to take your chances with smaller companies, which rarely operate to published timetables. In rural areas you may have to ask around at the harbour or wharf as to what boats are leaving, for where and when.
By bus
Bus travel can be relatively uncomfortable and slow, but you'll get a real glimpse of rural Philippine life from the window, and meet Filipinos from all walks of life. Buses are also incredibly convenient: hundreds of routes spread out like a web from major cities and even the most isolated barrio will have a service of some sort. You won't go hungry either. At most stops local vendors will jump on and offer you various snacks and drinks, while on the longer hauls, buses stop every three or four hours to give passengers a chance to stretch their legs and buy some food.
There are some downsides. Though the largest bus companies have fleets of reasonably new air-conditioned buses for longer routes, most rarely have toilets. On shorter routes buses can be dilapidated contraptions with no air conditioning and, in some cases, no glass in the windows. You'll also need to have a high tolerance to loud music or Tagalog movies played at full blast throughout the trip.
By jeepney, FX taxi and tricycle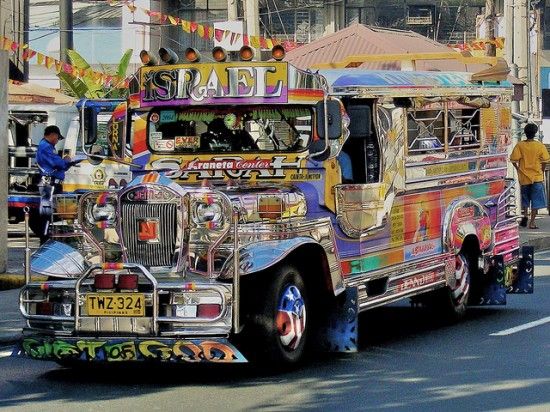 The jeepney is the ultimate Philippine icon, and in Manila, Cebu City, Davao and Baguio, jeepneys are important for city transport, with frequent services between important locations in each city. In the provinces jeepneys connect isolated barrios to nearby towns and towns to cities, but they might run only two or three times a day, depending on demand, the weather and the mood of the driver. There are absolutely no timetables.
Routes are painted on the side or on a signboard in the window. Even so, using jeepneys takes a little local knowledge because they make numerous stops and deviations to drop off and pick up passengers. There's no such thing as a designated jeepney stop, so people wait in the shade at the side of the road and flag one down. The vehicles are cramped and incredibly uncomfortable, usually holding about twenty passengers inside and any number of extras clinging to the back or sitting precariously on top. It can be a hassle to get luggage on and off – small items might end up on the floor, but larger items will go on the roof. At least jeepneys are a great social equalizer; you'll soon find yourself involved in jolly conversations with the rest of the passengers about your nationality, destination and marital status.
Fares are low: in the provinces they start at P7 for a trip of a few kilometres, rising to P50 for two- or three-hour drives. In the cities, a trip of a few hundred metres costs around P7, rising to P25 on longer routes. To pay, hand your money to the passenger next to you and say bayad po (pay please). If you're not sitting close to the driver, the fare will be passed down the line of passengers until it reaches him; he will then pass back any change.
Not unlike jeepneys in the way they operate, FX taxis are air-conditioned Toyota minivans, with signs in the window indicating their destination. They made their debut in Manila in the late 1990s, and now operate in other cities and on some popular inter-city routes. However, routes are often not set, so it takes a little local knowledge to know where to catch the right vehicle. The vans can be a little claustrophobic – the driver won't even think about moving until he's got ten people on board, three more than the vehicle is designed for. In Manila most of these vehicles are often labelled "GT Express" and usually charge P2 per kilometre.
Tricycles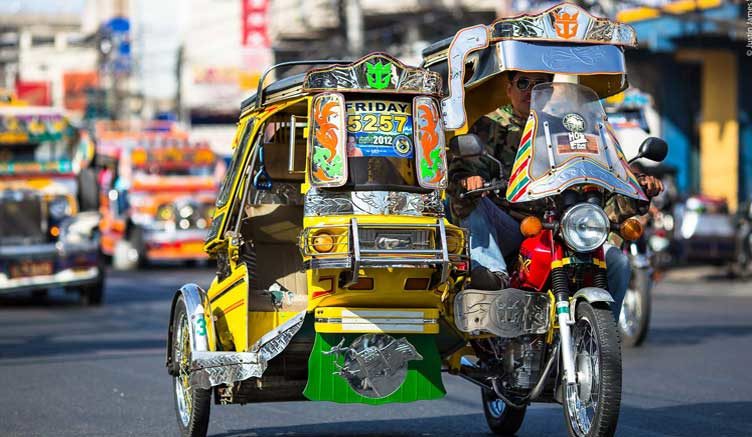 The cheapest form of shared transport, tricycles (habel-habel) are ubiquitous in the provinces. In Manila and Cebu City they are prohibited from using certain roads, but almost everywhere else they go where they like, when they like and at speeds as high as their small engines are capable of. The sidecars are designed for four passengers – two facing forwards and two backwards – but it's not uncommon to see extras clinging on wherever they can, the only limiting factor being whether or not the machine can actually move under the weight of the extra bodies. Tricycles never follow fixed routes, so it's usually a question of flagging one down and telling the driver your destination.
Fares typically start at P7 per person for a short trip of a few hundred metres. Many tricycles charge a set rate per person for trips within town or city boundaries, usually around P7–25. If you want to use the tricycle as a private taxi you'll have to negotiate a price – P25 is reasonable for a trip of up to 2km in the provinces. Anything further than that and the driver will ask for at least P50, though you can always try to bargain him down.
By car
It's possible to rent a self-drive car in the Philippines – a standard saloon car costs about P2000 per day. The question is whether you'd want to. Not only is traffic in Manila and other cities often gridlocked, but most Filipino drivers have a very relaxed attitude towards the rules of the road. Swerving is common, as is changing lanes suddenly and driving with one hand permanently on the horn, particularly with bus and jeepney drivers. On the other hand, if you're used to driving in London, LA or New York this might not phase you too much, and in any case, once you reach more rural areas – northern Luzon for example – travelling by car can be incredibly convenient and open up a whole range of otherwise hard-to-reach destinations. Many travellers also rent motorbikes, but this is only recommended for experienced riders – the chances of having an accident are statistically fairly high. It's best to avoid driving at night altogether.
If you do drive you'll require your driving licence and be prepared to show it if you get stopped (rentals are allowed for up to 90 days – longer stays will require a Philippine licence). Vehicles in the Philippines drive on the right side of the road and distances and car speeds are in kilometres (one mile equals about 1.6 km). The freeways usually have a nominal speed limit of 100kph, but anywhere else you'll rarely be going faster than 30kph thanks to congestion.
Always drive defensively – cars, animals and pedestrians will pull out in front of you without warning (in many rural areas people are still not used to traffic), and always give way to jeepneys, which will happily drive you off the road. When passing anything, sound your horn twice as a warning (horns are rarely used in anger).
Note that police and "traffic enforcers" – uniformed men and women employed by local authorities to supplement the police – might try to elicit a bribe from you. If this happens it's best to play the dumb foreigner and hand over the "on-the-spot fine" of a few hundred pesos (make sure you have cash with you). If you take the moral high ground and refuse to play along, you'll probably end up having your licence confiscated or, in the worst case, your car towed away and impounded until you pay a fine to get it back.
Hiring a driver
For about P1600 (plus fuel, driver's food, parking/toll fees) you can hire a small car and driver from some car rental agencies for up to eight hours, the extra expense more than justified by the peace of mind a local driver brings.
It can be much cheaper to strike a private deal with a car or van owner looking for extra work. A typical rate for their services is P1500 a day (plus fuel and tolls), although you'll need to negotiate. A good way to find someone with a vehicle is to ask at your accommodation; alternatively, locals with cars wait at many airports and ferry ports in the hope of making a bit of money driving arriving passengers into town. You can ask these drivers if they're available to be hired by the day.
Addresses in the Philippines
For buildings, it is common to give the address as, for example, 122 Legaspi corner Velasco Streets, meaning the junction of Legaspi Street and Velasco Street. G/F denotes street level, after which comes 2/F, 3/F and so on; "first floor" or 1/F isn't used. Some addresses include the name of a barangay, which is officially an electoral division for local elections, but is generally used to mean a village or, when mentioned in connection with a town, a neighbourhood or suburb. The word barangay isn't always written out in the address, although it's sometimes included in official correspondence and signposts, often abbreviated to "Brgy" or "Bgy". The term "National Highway" in an address doesn't necessarily refer to a vast motorway – on the smaller islands or in provincial areas, it could mean the coastal road or the main street in town. When it comes to discussing islands, Filipinos generally talk loosely in terms of the main island in the vicinity – so, for example, they would talk about visiting Panay when they actually mean offshore Pan de Azucar.
Visa
Citizens of countries that have diplomatic relations with the Philippines may enter visa-free for no more than 30 days, but must present a passport valid for at least six months after arrival and proof of onward or return passage.
Extension of visa is easy to do on location. Just head to the closest immigration office where you can extend your visa easily at a fee. Other option is to inquire in your home country, for instance in Belgium you can do this in the Philippine ambassy in Brussels or a consulate in Flanders. Please contact us for assistance.